Smart Choices for Life
Willie Grace | 11/3/2014, 6 a.m. | Updated on 11/3/2014, 6 a.m.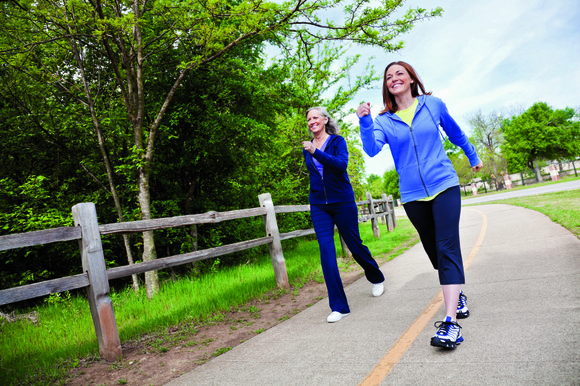 (Family Features) When you set out to make life changes such as weight loss or adopting a more active lifestyle, it can be tempting to look for shortcuts that expedite your path toward your end goal. However, long-term success is more attainable for those who take a slow and steady approach that puts health first.
"There are dozens of reasons people look to develop healthier eating habits, ranging from weight loss to disease prevention," said Rene Ficek, registered dietitian and nutrition expert for Seattle Sutton's Healthy Eating (SSHE). "Regardless of the motivation, success begins with a well-balanced eating plan that is based on sound nutrition and physical activity."
Ficek offers this advice to individuals looking for a new approach to eating:
Adopting a healthy diet is the key to successful, long-term weight loss. A healthy diet provides adequate calories and nutrients to support your body's energy and nutritional needs while allowing you to shed an average of 1–2 pounds per week.
Be wary of diet plans that promise loss of five or more pounds per week, which is unrealistic and unhealthy.
Look for a meal plan that takes the guesswork out of eating right by serving calorie- and portion-controlled meals that reflect a well-balanced diet.
Aim for at least 30 minutes of exercise every day. If you have been primarily sedentary, start slowly with a moderate walk each day, working up to more aggressive cardiovascular exercise and weight training to develop muscle.
Find ways to make your new lifestyle as convenient as possible, such as meal programs that save on grocery shopping and cooking time or gyms that specialize in short, well-rounded workouts.
Another important aspect of a successful weight loss program is a menu that incorporates high-quality ingredients to create an appetizing array of meals that adhere to current nutrition guidelines.
Finding a menu that offers variety is a smart approach, Ficek says. "When you're watching what you eat, it's easy to get stuck in a rut and eat the same foods repetitively. Unfortunately, that approach can backfire if you become bored with your food and gravitate toward options with new flavors that may be less nutritionally beneficial."
On the breakfast menu, SSHE offers options such as Strawberry Yogurt & Dark Chocolate-Berry Crunch Parfait, which features layers of strawberry Greek yogurt with orange-cherry-cranberry sauce and a decadent granola-berry-dark chocolate crunch. Or for lunch, the Pecan-Cranberry Mixed Greens Salad offers a fresh mix of salad greens, roasted pecan halves, Swiss cheese, dried cranberries and celery seed dressing served with a tomato juice sipper.
To learn more about convenient and healthy approaches to losing weight, visit www.seattlesutton.com or call 1-800-442-3438.
Number Crunch
Healthy eating means understanding and closely monitoring the calories and nutritional value of the foods you eat. The registered dieticians and research and development teams at Seattle Sutton's Healthy Eating prepare meal plans that comply with the following nutrition guidelines:
Low in fat (25 percent calories from fat)
Low in saturated fat (less than 7 percent)
Low cholesterol (less than 200 mg)