Soup and Sides to Warm Up Holidays
Willie Grace | 11/3/2014, 6 a.m. | Updated on 11/3/2014, 6 a.m.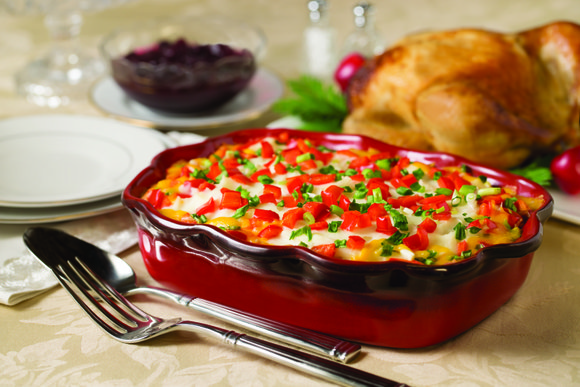 (Family Features) The best holiday meals have sides that are warm, comforting and satisfying — like your family's favorite mashed potatoes. This year, bring potatoes to the table in three new ways with recipes that can be easily made with little fuss. Gathering everyone together is easy when you serve side dishes prepared with quality ingredients, such as Hungry Jack potatoes. Invite guests to taste the traditional flavors of the season in a whole new light with these crowd-pleasing recipes:
Add some celebration to your spread with Festive Loaded Mashed Potatoes. Red bell pepper and green onion bring crunch, color and flavor to round out a merry mealtime.
A delicious combination of spinach, potatoes and creamy cheese is the perfect complement to your holiday entree. This recipe for Double Cheese Spinach-Potato Pie is a hearty, flavorful side that can be served in its classic pie form or as a casserole.
Family and friends will be lining up for seconds when they try Pumpkin Potato Soup, with its rich, velvety texture and the spice of the season.
You can find more warm and satisfying holiday soup and side recipes on the Hungry Jack Pinterest page, or at www.hungryjackpotatoes.com.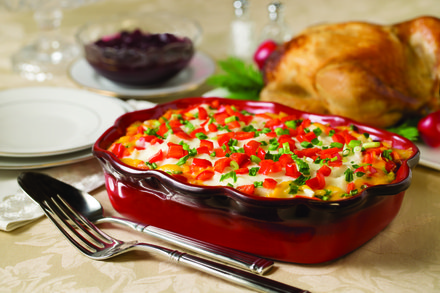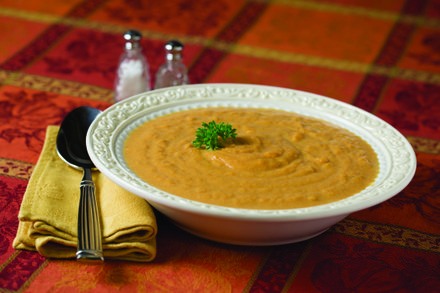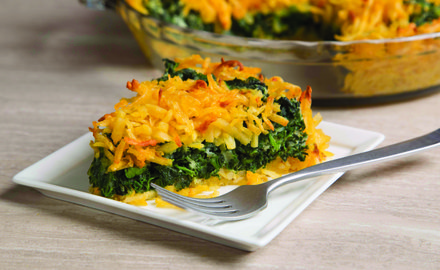 Festive Loaded Mashed Potatoes
Prep time: 15 minutes
Bake time: 25 minutes
Servings: 8
2 1/2 cups water
3 tablespoons butter
3/4 teaspoon salt
1/4 teaspoon pepper
1 1/4 cups milk
2 2/3 cups Hungry Jack Mashed Potato Flakes
1 cup sour cream
1 1/2 cups shredded cheddar cheese
6 strips bacon, cooked and crumbled
3/4 cup diced red bell pepper, or jarred roasted red bell pepper, drained and diced
1/2 cup sliced green onion
Heat oven to 350°F. Lightly grease or coat with cooking spray 9-inch-by-9-inch or 2-quart baking dish.
Heat water, butter, salt and pepper until simmering in large saucepan. Remove pan from heat.
Stir in milk and potato flakes until blended. Let stand 1 minute. Stir in sour cream.
Spread half potatoes in prepared baking dish. Top with cheddar cheese and bacon. Spread remaining potatoes on top and sprinkle with red pepper and green onion.
Cover and bake until heated through, 25–30 minutes.
Nutrition information per serving: 320 calories; 20 g fat (12 g saturated fat); 11 g protein; 23 g carbohydrate; 1 g fiber; 55 mg cholesterol; 520 mg sodium.
Double Cheese Spinach-Potato Pie
Prep time: 15 minutes
Bake time: 30 minutes
Servings: 6
1 carton (4.2 ounces) Hungry Jack Cheesy Hashbrown Potatoes
3/4 cup Hungry Jack Mashed Potato Flakes
3/4 cup milk
2 eggs
1/2 cup grated Parmesan cheese
1/2 teaspoon ground black pepper
1/4 teaspoon salt
16 ounces frozen chopped spinach, thawed and squeezed dry
2 tablespoons vegetable or olive oil
Refresh hashbrown potatoes according to package directions. After 12 minutes, drain and squeeze out any excess liquid from carton.
Heat oven to 425°F. Coat 9-inch pie dish with cooking spray.
While hashbrowns are standing, combine potato flakes, milk, eggs, Parmesan, pepper and salt in large bowl. Mix in spinach.
Add oil to refreshed hashbrowns in carton and mix well.