Tiny survivors: Special NICU mimics mother's womb
Willie Grace | 11/3/2014, 6 a.m. | Updated on 11/3/2014, 6 a.m.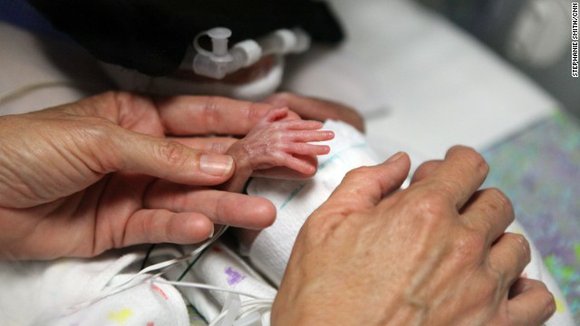 ORANGE, California (CNN) -- Ian Chung is nestled in darkness. Born just 24 weeks into gestation, he weighs scarcely more than a pound.
He can hear the faint sounds of the outside world mingling with the soothing sound of his mother's voice. His spindly arms and legs shake as he lets out a warble.
"Oh, my love," coos his mother, Julie Chung, 31. "You're going to be OK."
Julie's hands descend -- one landing lightly on Ian's chest while the other pushes against his jerking legs. She is using touch and light pressure to simulate, for her premature son, her own womb. A few moments later, Ian stops crying.
"When he was born he was so tiny," said Chung. "It was like, 'Oh wow, can a baby even survive outside the womb this early?'"
Medical advances are improving outcomes for even the tiniest babies. Experts say fewer than 1% are born in the "micro preemie" category; at the hospital where Ian is being treated, Children's Hospital of Orange County in California, that means born before 28 weeks or born weighing less than 2.2 pounds.
"Survival rates (among micro preemies) have been improving," said Mindy Morris, a neonatal nurse practitioner at Children's Hospital. "So they may survive to discharge. But then growing up as children they have a lot of complications."
Doctors and nurses at a specialized unit at Children's Hospital have implemented a system they say is dramatically reducing disability and infection rates among this rare preemie population.
Aptly named the Small Baby Unit, the staff work under the cover of darkness and quiet in a separate wing of the hospital. Here, stimulation is kept to a minimum; speaking is only done in hushed voices. The overall effect is one of relative calm: an attempt to mimic what babies would experience if they were still safely tucked in utero.
"We try to keep it low sound, low lights, so that it is as close to the womb as we can get," said Morris, coordinator of the Extremely Low Birth Weight Program at Children's Hospital. "We try to minimize the intrusion to them."
In 2009, before the Small Baby Unit was up and running, 45% of babies were discharged with chronic lung disease. In 2012, after the unit had been operating for three years, the rate was down to 27%. Infection rates from 2009 to 2012 dipped from 41% to 15%, and feeding, weight and head circumference have also improved.
Dr. Kristi Watterberg, chairwoman of the American Academy of Pediatrics' committee on the fetus and newborn, said that developing processes to treat extremely low birthweight babies is -- broadly speaking -- a good thing. But since Children's Hospital's data are self-reflexive, she questions what exactly is contributing to the unit's success.
"When someone starts focusing on something, it tends to trend better," said Watterberg. "What made it happen? We don't know."
Watterberg said that some elements of what is being done at Children's Hospital, including various forms of touch therapy, can be beneficial to premature infants.