Florida rejects medical marijuana as other states consider measures
Willie Grace | 11/5/2014, 6 a.m. | Updated on 11/5/2014, 6 a.m.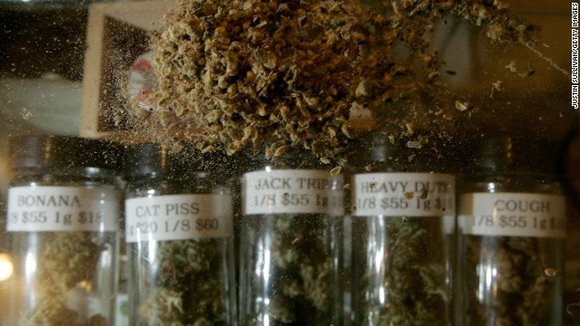 WASHINGTON (CNN) -- Voters in Florida have given the thumbs down to medical marijuana in the the Sunshine State, according to a CNN projection.
The measure -- which is one of many on ballots in 2014-- would have legalized the use of medical marijuana in Florida and would have tasked the state's Department of Health with regulating it.
Marijuana activists, while disappointed by the loss in Florida, were upbeat about their cause.
"While it's disappointing that patients in Florida won't be able to find legal relief with marijuana just yet, tonight's result does show that a clear majority of voters in the sunshine state support a new direction," Tom Angell, chairman of the Marijuana Majority, told CNN. "We didn't get the 60% needed to pass medical marijuana as a constitutional amendment, but patients and their supporters will keep pushing until the law reflects what most voters want."
Marijuana laws are on the ballot in two other states -- Oregon and Alaska -- and Washington, D.C., on Tuesday.
Voters in District of Columbia are expected to legalize marijuana in the federal district. A Washington Post poll before Election Day found that 65% of D.C. voters supported legalization.
The district's law would allow for a person over 21 years old to possess up to two ounces of marijuana for personal use and grow up to six cannabis plants in their home. It also allows people to transfer up to one ounce of marijuana to another person, but not sell it.
Marijuana has been a surging issue of late.
In 2013, according to Gallup, more Americans supported legalization than those who opposed it. Just 14 years earlier, those who opposed it had over a 2-to-1 advantage. A 2014 Pew Research poll found that 54% of Americans supported making marijuana legal.
Ever since voters in Colorado and Washington allowed the sale of legalized marijuana in 2014 (after voters decided to legalize years before), the push for more marijuana legalization has become a popular nationwide effort.
The laws in Oregon and Alaska are similar to what Colorado and Washington state passed and would allow recreational sale and taxation of the drug. Both votes are expected to be close, with polls mixed on the results.
For more information go to http://www.cnn.com