Houston Rockets vs. Miami Heat: Live Score, Highlights and Reaction
11/5/2014, 6 a.m. | Updated on 11/5/2014, 6 a.m.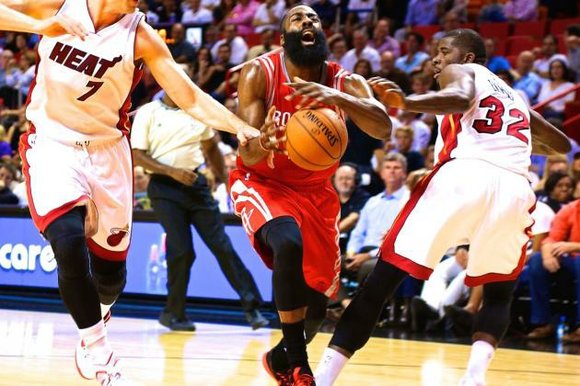 The Houston Rockets survived a late-game surge from the Miami Heat, earning a well-deserved 108-91 win to stay unbeaten at 5-0.
During the third quarter, Houston built a 13-point lead with its stellar long-distance shooting. Chris Bosh led Miami back, however, netting 11 points in the frame.
Midway through the fourth, the Rockets held a 90-86 advantage before James Harden and Trevor Ariza nailed a few threes, and a Patrick Beverley layup quickly gave Houston a 16-point lead which iced the victory.
Dwight Howard scored a game-high 26 points, while Harden added 25 points, 10 assists and nine rebounds. Ariza chipped in 19 points, five assists and five boards, burying 5-of-8 from beyond the arc. As a team, the Rockets buried 17-of-37 trifectas, despite a 2-of-8 mark from Kostas Papanikolaou.
Bosh carried Miami with 21 points and eight rebounds, and four other Heat players tallied double figures. The Heat shot just 42 percent from the floor, dropping their first game of the season.
For more information go to http://www.bleacherreport.com