Martin Short stays sunny-side up
Willie Grace | 11/5/2014, noon | Updated on 11/5/2014, noon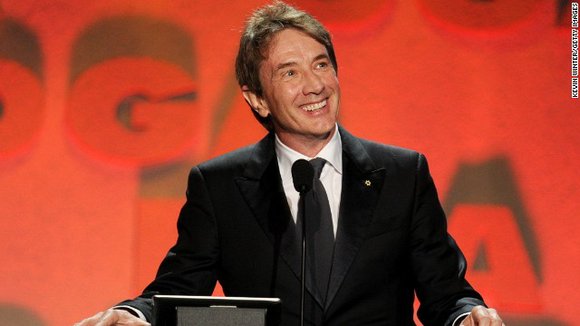 (CNN) -- Conan O'Brien has called Martin Short the "funniest guy ever," but, at times, Short's sunny outlook has come at the expense of great loss.
His big brother, David, died in a car accident in 1962 when Short was 12. By the time he was 21, he'd lost his mother and father. His wife died of ovarian cancer in 2010.
Yet, through it all, Short has kept in mind a valuable lesson he took to heart after David's death: "Something terrible can happen to you, and yet, the day after this something terrible, the sun still rises, and life goes on. And therefore, so must you."
The actor and comedian, known for his stints on "SCTV," "Saturday Night Live," "Primetime Glick" and a number of movies, spoke to CNN about his memoir, "I Must Say: My Life as a Humble Comedy Legend" (HarperCollins), which comes out Tuesday.
In person, he is just as gracious, energetic and seemingly pixie dust-covered as the Martin Short who frequents late-night talk shows. That's no act.
The naturally cheerful Canadian rejects the notion that he uses comedy to dull the pain. Instead, he says, he has gained wisdom from the events. He looks at the bright side, even when thinking about loss.
Channeling Ed Grimley
Short never expected to hit it big.
Though he grew up idolizing Frank Sinatra and hosted a faux variety show from his attic bedroom in his hometown of Hamilton, Ontario, Short maintains he was too far, psychologically, from the United States to harbor Hollywood dreams.
The youngest of five, Short grew up in a boisterous, fun-loving Irish-Catholic family. His father, born in Ireland, worked as a steel company executive. Short's mother served as concertmistress of the symphony orchestra in Hamilton.
Short was studying social work until his friend Eugene Levy persuaded him to give acting a chance.
His second professional audition was in 1972 for the Toronto production of "Godspell." He and Levy were cast with Victor Garber, Gilda Radner and Andrea Martin, among others. Paul Shaffer was the musical director. It was their collective big break.
But Short had a bigger break midway through the show's 1972-73 run. He met a "forbiddingly attractive" understudy named Nancy Dolman. They started dating and eventually married.
"The miracle of Nan and me is that once we started," Short wrote in the book, "we never stopped; we remained forever devoted to each other."
Even after "Godspell," he thought he'd missed the boat. In the mid-1970s, Radner and Shaffer headed to "Saturday Night Live." Pals like Levy, Catherine O'Hara, John Candy and Harold Ramis were working on a pre-"SCTV" show called "Second City Television." Short felt like his own career was in a rut.
Short recalled a 1977 incident in which he froze in his tracks while walking along Los Angeles' Santa Monica Boulevard. Intimidated by his friends' successes, he sat on a bench and silently brooded for 15 minutes as Dolman held his hand.