President Obama Writes to Iran's Ayatollah Khamenei About ISIS Fight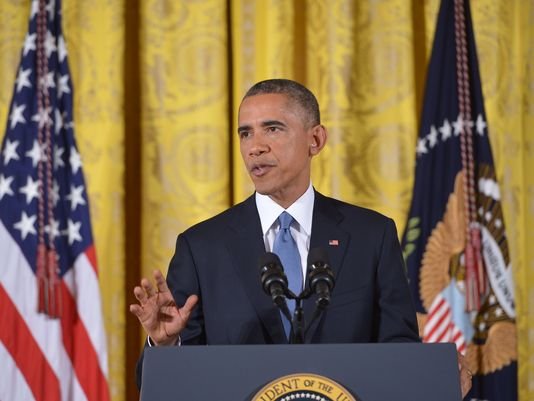 President Obama sent a letter to Iran's Supreme Leader last month expressing the two countries' shared interest in beating ISIS, according to two sources briefed on the correspondence.
The letter, sent in October to Supreme Leader Ayatollah Ali Khamenei, conveyed that there is a shared interest in combating ISIS, but said resolving the talks regarding Iran's nuclear program was a main impediment to greater cooperation, the sources told CNN. One source added it was "the major" impediment. The Wall Street Journal first reported about the letter on Thursday.
White House spokesman Josh Earnest would not acknowledge the letter, saying he would not talk about the "private correspondence" of the President
"I can tell you that the policy that the President and his administration have articulated about Iran remains unchanged. The United States is engaged in conversations with Iran in the context of the P-5-plus-1 talks to resolve the international community's concerns about Iran's nuclear program," Earnest said. "We have also discussed on the sidelines of those talks on at least a couple of occasions, the ongoing campaign that is being conducted against ISIL by the United States and 60 members of -- now more than 60 -- members who are part of this broader coalition."
While the United States acknowledged notifying Iran before striking in Syria earlier this year, administration officials have said there is no cooperation between the countries in combating ISIS. Secretary of State John Kerry said there would be no "cooperation," but the United States wanted to "de-conflict."
"The United States will not cooperate militarily with Iran in that effort. We won't share intelligence with them. But their interests in the outcome is something that's been widely commented on -- commented upon and something that on a couple of occasions has been discussed on the sidelines of other conversations," Earnest said.
While there are many other concerning aspects of Iranian behavior for the United States, including human rights and Americans in captivity, the nuclear deal is seen as the major impediment, one of the sources said.
The administration did not notify its Mideast allies in Israel or the Gulf about the letter, the other source said.
In September, Khamenei said he rejected U.S. overtures to join the U.S.-led coalition against ISIS.
In comments released by Iran's FARS news agency, Khamenei detailed what he called "U.S. demands for cooperation."
"During the hard days of Daesh's attacks on Iraq, the U.S. ambassador to Iraq demanded our envoy in the country (Iraq) that Iran and the U.S. meet for negotiations and coordination on Daesh," Khamenei said, using a derogatory nickname for ISIS. "Our ambassador reflected the issue to Iran and although some officials didn't voice opposition, I opposed it and said we will not cooperate with the Americans in this regard since they have a corrupt intention and stained hands and how could we have cooperation with the Americans under such conditions?"
Referring to Kerry's comments that Iran would not be invited to join the anti-ISIS coalition, Khamenei said, according to FARS, "The same U.S. secretary of state had personally demanded (Iranian Foreign Minister) Dr. (Mohammad Javad) Zarif, and called for cooperation with us on Daesh but Dr. Zarif had rejected his demand." He added that Acting Deputy Secretary of State Wendy Sherman, the lead U.S. negotiator in the nuclear talks, "repeated the same demand for cooperation with Iran" with her counterparts.
Obama has made at least two other overtures to the Supreme Leader since taking office in 2009.
News of the letter angered congressional opponents of a nuclear deal with Iran. They are already deeply discomforted by details of a possible agreement that have been emerging ahead of an end-of-November deadline.
One senior GOP congressional staffer told CNN's Stephen Collinson that the letter was sending "shock waves" through Capitol Hill and suggested it would also anger Israel and U.S. allies in the Middle East who think the President is already going behind their backs to negotiate a "bad deal" with Iran.
CNN's Stephen Collinson contributed to this report.
For more information, visit CNN.com.