In The Studio With J.Moss
Willie Grace | 11/6/2014, 12:01 p.m. | Updated on 11/6/2014, 12:01 p.m.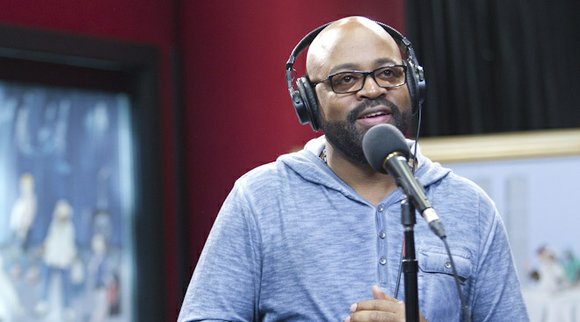 After several years of success as one of the most cutting-edge artists in contemporary gospel – including topping the Billboard Gospel Albums chart and going Top 20 R&B with his Grammy nominated 2007 album V2 – superstar singer/songwriter/producer J Moss made a personal decision to scale back the sonic fire and star power for which he is known to offer listeners a more intimate and introspective portrait of the artist – a stripped back production of repentance and praise he has chosen to title JUST JAMES.
"Every now and then a person gets to a point on their journey where they discover precisely what their trajectory is," J testifies, "where you're supposed to be or where you're supposed to land. That's what 2008 and 2009 has been for me. I've been through challenges that tested my faith, my merit, my credibility…even my will to live. There were times when I was at my human wit's end and wanted to take myself out! In the midst of all that brokenness – a shattered heart and a shattered life – God picked me up and dealt with me one on one. He said, 'That emptiness you're feeling…that's exactly where you are supposed to be. So many others are feeling that same emptiness, but I need you to be my beacon to show them how to overcome it.' It was a life changing epiphany for me."
The utter purposefulness behind the new material also stems from what J saw firsthand as an absence of material that spoke to his specific circumstance in the marketplace. "When I was down, I tried listening to the radio, thumbing through iTunes and going to Best Buy, trying to find some lyric or artist that could get me through my pain. I'm not saying that other artists aren't writing good music, but I couldn't find anything about MY situation. That's when The Lord said to me, 'The reason you can't find a song that speaks to you is because you're the one who has to write that song. Those whose marriages and relationships are being tried, you are the messenger I want to use to deliver that message.' All of us have our niche to speak to. Smokie Norful has his people with 'I Need You Now.' Marvin Sapp has his people with 'Never Would Have Made It.' Kirk Franklin has his people and I have mine. God has pointed me to the ministry of speaking to people in relationships.
Two of the most salient tracks birthed by this new awakening are "Restored," one of the CDs first singles, and "Rebuild." "There was a period where I had really hit rock bottom, I felt like I had failed my family, failed God, failed the people that looked up to me…I was very depressed. When I finally pulled myself up off the floor – I just clung to the Word and dealt with what restoration was all about. That is when God told me 'I didn't allow you to fall to kill you, but to break the outer shell and rebuild you again better and stronger – from the inside. I allowed you to fall so that I could release you from all of the worldly fluff that had clamped onto your life and so I could rebuild you.' That's what I'm portraying in these songs."