Medicare Will Cover Annual CT Scan for Individuals at High Risk for Lung Cancer
American Lung Association Applauds Proposal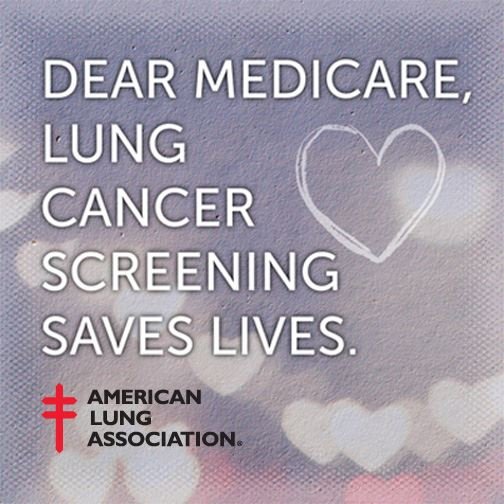 Washington, DC (November 10, 2014) – The Centers for Medicare and Medicaid Services (CMS) announced today its draft proposal to cover an annual low-dose CT scan for Medicare beneficiaries at high risk for developing lung cancer. Medicare defined high risk as individuals 55 to 74 years of age, with a smoking history of 30 pack years and have quit smoking within the last 15 years. The American Lung Association welcomes this proposal.
In its announcement, Medicare proposed to require facilities performing CT scans to submit data including initial screening findings, follow-up and the patient's ultimate health outcomes. Medicare also proposes that radiologists serving Medicare patients must have significant experience in reading and interpreting CT scans for possible lung cancer. Finally, Medicare proposes that screening take place at a radiology imaging center that has significant experience or is accredited as an advanced diagnostic imaging center.
"The American Lung Association applauds Medicare for this lifesaving announcement," said Harold P. Wimmer, National President and CEO of the American Lung Association. "Today's proposal by Medicare will save lives, increasing the low survival rates associated with lung cancer, our nation's leading cancer killer."
This recommendation comes almost 11 months after the U.S. Preventive Services Task Force (USPSTF) awarded a "B" grade to annual low-dose CT screening for individuals at high risk for lung cancer. Under the Affordable Care Act, effective prevention measures – graded A or B – are included in the Essential Health Benefit. Individuals who are enrolled in state health marketplace plans, enrolled in Medicaid-expansion programs and those with non-grandfathered private insurance plans who meet the screening criteria will have insurance coverage for screening without co-payments or other barriers starting January 1, 2015 or the beginning of their next plan year. The American Lung Association has created a chart to help explain this coverage.
The Lung Association also applauds Medicare for requiring providers to include smoking cessation counseling or counseling about the importance of staying quit as one of the elements leading up to the annual scan.
CMS announced previously that a 30-day comment period will now begin, allowing the public to submit comments to Medicare in response to its proposal until December 10, 2014. A final announcement is expected in February 2015 at which time coverage for Medicare beneficiaries will begin.
Lung cancer is the leading cause of cancer death for both men and women in the United States. The five-year survival rate for lung cancer patients is only 16.6 percent. An annual low-dose screening test for individuals at high risk has the potential to dramatically improve lung cancer survival rates by finding the disease at an earlier, more treatable stage. The USPSTF estimates that if everyone who is at high risk is screened, there will be a 14 percent reduction in lung cancer deaths in the United States.
The most important risk factor for lung cancer is smoking, and the best thing people can do to reduce their risk is to stop smoking or never start. The American Lung Association has helped more than one million people quit smoking through its Freedom From Smoking® program and its Lung Helpline at 1-800-LUNGUSA. Information on screening and other lung cancer risk factors including exposure to secondhand smoke, radon, air pollution and other hazardous materials, can be found on the American Lung Association's website.