First Lady Michelle Obama Awards Workshop Houston National Arts and Humanities Youth Program Award
Houston non-profit honored at the White House, Houston Children's Museum to host red carpet community celebration on November 15th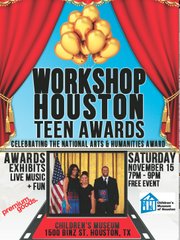 (HOUSTON, TEXAS) Yesterday, Workshop Houston's Co-Director, Reginald Hatter, and 13 year old student, Brianna Burns, took their first trip to the White House to receive the National Arts and Humanities Youth Program Award along with eleven young people from across the country. All organizations took the stage with First Lady Michelle Obama, one-by-one, on behalf of the after-school programs that have changed their lives.
The award recognizes the country's best creative youth development programs for using engagement in the arts and the humanities to increase academic achievement, graduation rates, and college enrollment. The awardees—chosen from a pool of more than 350 nominations and 50 finalists—are also recognized for improving literacy and language abilities, communication and performance skills, and cultural awareness.
"Meeting the First Lady was a cool experience," said Brianna. "I am so grateful for what Workshop Houston has done for my friends and me. Meeting other students was exciting too. I told them about my music production skills and that I would love to collaborate with them in the future. We all have our own talents and projects to show to the world."
Workshop Houston Co-Director, Reginald Hatter explained that meeting the First Lady was surreal. "It was an experience I will never forget. Meeting the FLOTUS was incredible. She is very regal yet congenial and down to earth. I was honored to be in her presence."
Workshop Houston is a middle school program that builds academic, creative and technical skills through hands-on activities like welding and metal fabrication, fashion and graphic design, and music production/recording.
"You teach kids more than just skills in the arts and humanities – you light a fire in them; you help them grow emotionally and socially," said Mrs. Obama at the award ceremony. "And as all of you know, that has an impact on our kids not just their success in the arts and in the humanities but on their success in school and in life."
In addition to their recognition at the White House, Workshop Houston will receive $10,000 and a year of communications and capacity-building support from the President's Committee on the Arts and the Humanities. For more information about the National Arts and Humanities Youth Program Awards, visit http://www.pach.gov.
In partnership with the Houston Children's Museum, Workshop Houston is hosting the first "Workshop Houston Teen Awards" on Saturday, November 15, 2014. The red carpet event will showcase the four programs and the creative work that Workshop Houston's students have done within the last year. There will also be an awards ceremony recognizing the students and presenting the National Arts and Humanities Award. In addition, there will be a live music performance by Brianna Burns, other students and a special hip-hop guest. This event is open and free to the public. Workshop Houston encourages media outlets to attend and join the students on the red carpet and throughout the event. RSVP here: http://workshophoustonawards.eventbrite.com.
About Workshop Houston
Workshop Houston's mission is to provide youth with creative, technical and educational resources. Our vision is to lay the groundwork for a just society by creating a community that provides youth with support, expanded opportunities and alternative definitions of success. Workshop Houston offers innovative youth development programs through our four shops: the Chopper Shop (welding and metal fabrication), the Beat Shop (music production), the Style Shop (fashion and graphic design) and the Scholar Shop (tutoring and academic enrichment). For more information, visit http://www.workshophouston.org.
About the National Arts and Humanities Youth Program Awards
The National Arts and Humanities Youth Program Award is the nation's highest honor for after-school arts and humanities programs. The awards recognize and support outstanding programs that lay new pathways to creativity, expression, and achievement outside of the regular school day. These programs excite and engage a range of students, cultivating imagination, collaboration, discipline and academic success, with demonstrable results. They also provide safe harbors after-school, weekends and evenings for children and youth in some of our country's most at-risk urban and rural settings.
For more information, visit http://workshophoustonawards.eventbrite.com