U.S. Open Golf Tournament Fast Facts
Willie Grace | 11/11/2014, 7:08 p.m. | Updated on 11/11/2014, 7:08 p.m.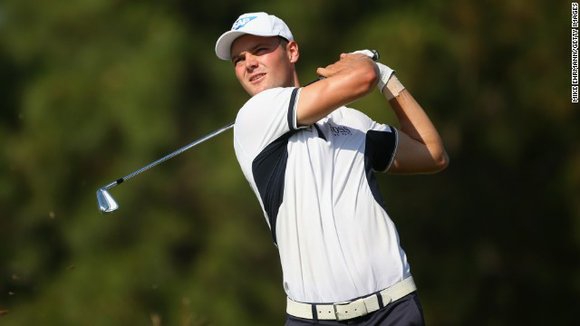 (CNN) -- Here's a look at what you need to know about the U.S. Open Golf Tournament.
About: The U.S. Open is one of the four Grand Slam golf tournaments; the others are the Masters, the PGA Championship and the British Open.
June 15-21, 2015 - Chambers Bay in Washington State will host the 115th U.S. Open golf tournament.
June 12-15, 2014 - The 114th U.S. Open takes place at the Pinehurst Resort & Country Club in Pinehurst, North Carolina. Martin Kaymer of Germany wins, earning his second major title.
The U.S. Open is open to any professional or amateur with a USGA Handicap Index not exceeding 1.4.
There are 156 players in the U.S. Open. The field is comprised of place-winners in the Sectional Qualifying Rounds and those exempt from the qualifying rounds.
U.S. Open History: October 4, 1895 - The first U.S. Open Championship takes place at the Newport (R.I.) Gold and Country Club's nine-hole course.
Ten professionals and one amateur play in the tournament.
Horace Rawlins, a course assistant, wins the tournament. He wins $150.
John Goodman is the last amateur to win the Open, in 1933.
1954 - The Open is first televised nationally.
June 12, 2012 - 14-year-old Andy Zhang, of China, becomes the youngest competitor in the U.S. Open's history.
2014 - 10,127 golfers enter to qualify for the U.S. Open, the most in history.
U.S. Open Records: Most wins - Four golfers have won the U.S. Open four times: Willie Anderson, Bobby Jones, Ben Hogan and Jack Nicklaus.
Youngest Winner - John J. McDermott is the youngest player to win the U.S. Open at 19 years, 10 months in 1911.
Oldest winner - Hale Irwin is the oldest player to win the U.S. Open at 45 years and 15 days in 1990.
Biggest comeback, final round - Arnold Palmer has the greatest comeback in U.S. Open final round history - he came back from 7 strokes down in the final round to win the U.S. Open in 1960.
Largest margin win - Tiger Woods won the U.S. Open by the largest margin ever in 2000 - 15 strokes.
Most strokes on one hole - Ray Ainsley, who played in the 1938 U.S. Open, holds the record for highest score on one hole - 19 strokes on a par 4.
Five golfers have won all four majors (British Open, U.S. Open, Masters and PGA Championship), though none have done it in the same year: Gene Sarazen, Ben Hogan, Gary Player, Jack Nicklaus, and Tiger Woods.
For more information go to http://www.cnn.com