Myanmar Fast Facts
Willie Grace | 11/12/2014, 1:02 p.m. | Updated on 11/12/2014, 1:02 p.m.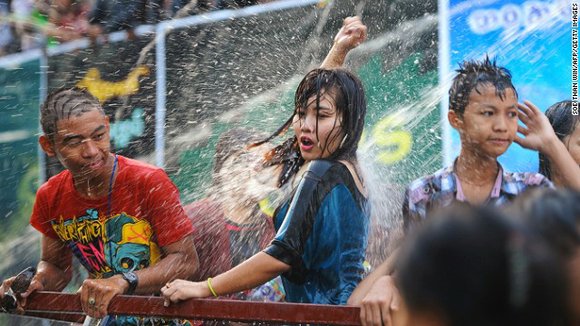 (CNN) -- Here's a look at Myanmar, a country in southeast Asia formerly known as Burma.
About Myanmar: (from the CIA World Factbook) Area: 676,578 sq km (slightly smaller than Texas)
Population: 55,746,253 (July 2014 est.)
Median age: 27.9 years
Capital: Naypyidaw
Ethnic Groups: Burman 68%, Shan 9%, Karen 7%, Rakhine 4%, Chinese 3%, Indian 2%, Mon 2%, other 5%
Religion: Buddhist 89%, Christian 4% (Baptist 3%, Roman Catholic 1%), Muslim 4%, animist 1%, other 2%
GDP: $111.1 billion (2013 est.)
GDP per capita: $1,700 (2013 est.)
Unemployment: 5.2% (2013 est.)
Other Facts: Prono: MEE'-an-mar
Myanmar shares borders with China, India, Laos, Bangladesh and Thailand.
The United States officially still calls the country Burma.
Timeline: 1824-1886 - Burma becomes part of British India after fighting three wars with Great Britain over 62 years.
January 1947 - After negotiating with the Anti-Fascist People's Freedom League (AFPFL), Great Britain agrees to give Burma its independence.
July 1947 - AFPFL leader Aung San is assassinated.
January 4, 1948 - Burma gains independence from the United Kingdom.
March 1962 - The military government is established under Ne Win after a bloodless coup.
August-October 1988 - Mass anti-government demonstrations take place throughout Burma. The official Radio Rangoon figure is 450 dead; the actual number is believed to be much higher.
September 1988 - Gen. Saw Maung takes over in another military coup.
1989 - Burma changes its name in English to Myanmar and the name of the capital from Rangoon to Yangon.
May 1990 - General elections are called by the junta. Aung San Suu Kyi's party wins easily, but the military refuses to hand over power.
April 23, 1992 - Gen. Than Shwe replaces Saw Maung as head of the junta.
July 23, 1997 - Myanmar joins ASEAN (Association of Southeast Asian Nations).
March 2006 - Naypyidaw becomes the new administrative capital.
August 19, 2007 - Protests break out in Yangon after the government raises petroleum and diesel prices by 100%.
September 5, 2007 - Soldiers' gunfire breaks up a monk protest in Pakokku.
September 22, 2007 - In her first public appearance in over four years, Aung San Suu Kyi greets monks as they march past her house in Yangon.
September 24, 2007 - Buddhist monks lead about 100,000 in the largest anti-government demonstrations since 1988.
September 26, 2007 - As protests continue, Myanmar security forces crack down - clubbing and gassing protestors and arresting as many as 200 monks.
September 30, 2007 - Special U.N. envoy Ibrahim Gambari meets with Suu Kyi and with military officials (separately) to attempt to resolve the situation.
October 20, 2007 - The U.N. General Assembly approves a resolution condemning a government crackdown and asking for the release of political protesters.
May 4, 2008 - A cyclone causes utter destruction, killing more than 22,000. It is later reported by the government that 41,000 people are missing and up to one million are homeless.
May 20, 2008 - It is announced that U.N. Secretary General Ban Ki-moon will be allowed to tour the devastated area hit by the cyclone. Also shipments of aid barred from coming into the country will be allowed in.