H-E-B's Panel Wowed by Armadillo & Roadrunner Eggs
Yolanda Pope | 11/13/2014, 11:20 a.m. | Updated on 11/13/2014, 11:20 a.m.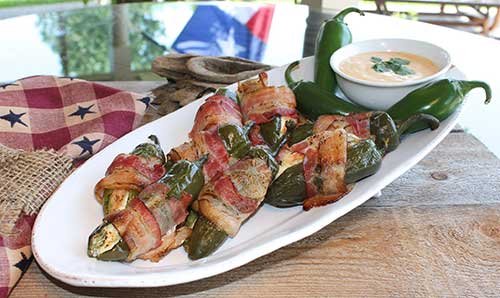 Another Houston area finalist impressed the judges in H-E-B's Quest for Texas Best competition by delivering small bundles of flavor filled packages that shook up the competition. I can only imagine what the judges thought when they were presented with a package called "Armadillo Eggs, Cajun Kiss & Roadrunner Eggs". However, I know they were pleased with the flavors that these culinary bites delivered once they were grilled and served. Actually, they are not Armadillo or Roadrunner eggs; these are chicken breasts wrapped in bacon, cheddar cheese, and accented with onion, jalapeno or a barbeque seasoning.

The products are called Western Grillers and they are the creation of DBL Foods who is represented by Mr. Scott Regian. These grillers did so well among the 600 entrants; that they were among the top 25 finalists and are accompanied by six other contestants from the Houston area. In addition to the chicken breasts, Western Grillers make Griller Dogs, which are bacon wrapped hot dogs with a cheese filling that are ready for the grill or oven broiler. Also, they offer jalapeno poppers which are stuffed with sausage and cheese and wrapped in bacon or they come stuffed with shrimp and cheese. I particularly enjoyed the stuffed Jalapenos with sausage, that's like having a party in your mouth.

The sausage was bursting with flavors; the jalapeno pepper supplied just the right amount of heat, the bacon provided enough salt and the cheese tied all of the flavors together. I baked mine in a small convection oven and followed the baking instructions on the package and in 30 minutes I was enjoying my dinner. I also tried the Cajun Kiss and the Armadillo Eggs; the chicken remained moist after baking, which I think happened because it was wrapped snuggly by the bacon. These pair well with a salad or steamed vegetable, the sausage stuffed jalapenos went well with organic lemon and bell pepper kale.

Finally, Scott expressed his pleasure in working with H-E-B, he stated that he and his team were treated so well, in addition to meeting so many other hard working contestants. In fact, Western Grillers has been selected to appear in H-E-B's December 3rd Primo Pick Circular which means every H-E-B shopper will have the opportunity to purchase the Armadillo Eggs, Cajun Kiss, Griller Dogs and/or the stuffed Jalapenos.

If want to read more about Western Grillers go to: http://ameripackfoods.com/. Thanks for reading and don't forget to follow me on Twitter: @YPEatingwStyle.