Palais Royal to Donate More Than $48,000 to Susan G. Komen Houston
Retailer helps to fight breast cancer with "30 Days of Giving" Campaign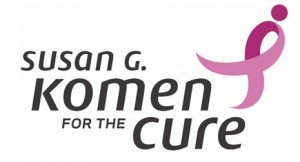 Palais Royal will present a check for $48,309.95 from its Community Counts' 30 Days of Giving Campaign to Susan G. Komen® Houston. The check presentation will take place at 2 p.m. on TODAY Thursday, November 13, at the Stage Stores Headquarters located at 10201 Main Street.
In attendance will be Russ Lundy, Executive Vice President, Stores; Bill Gentner, Executive Vice President and CMO; Steven Hunter, Executive Vice President, Chief Information Officer and Annie Stafford, Special Events Manager and Tania Cruz, Development Manager from the Susan G. Komen Houston Office.
During the 30 Days of Giving campaign, Palais Royal partnered with Susan G. Komen Houston and invited its customers to make a donation toward breast cancer treatment and research efforts. Customers were invited to donate $1, $3, or $5 to Susan G. Komen.
"Breast cancer affects many families, including the Stage Stores families. Stage Stores is passionate about helping women and researchers find a cure. We are proud to work with Susan G. Komen Houston to make a difference in our communities," said Russ Lundy, Executive Vice President, Stores.
Throughout the campaign, Palais Royal customers who donated received a Community Counts 40% off Single Item Coupon that could be used In addition to the amount their customers gave. Thus far in 2014, Stage Stores Community Counts program has raised a total of over $1.4 million in donations.
Breast cancer affects more than 500,000 women each year and is the second leading cause of cancer death in women. Funds donated to Susan G. Komen are used to attack the disease in research, community outreach, education, advocacy and global work.
"Stage Stores has been a partner and supporter of Susan G. Komen® Houston and our mission for many years. Partnerships like these enable us to educate our community about the importance of annual screenings and help families throughout our community with the breast health services they need. Komen research funding has helped to increase the breast cancer survival rate to over 90% if the cancer is detected early. Early detection saves lives," said– Adriana M. Higgins, Executive Director, Susan G. Komen® Houston
About Susan G. Komen® Houston
Susan G. Komen is the world's largest breast cancer organization, funding more breast cancer research than any other nonprofit while providing real-time help to those facing the disease. Since its founding in 1982, Komen has funded more than $800 million in research and provided more than $1.7 billion in funding to screening, education, treatment and psychosocial support programs serving millions of people in more than 30 countries worldwide. Komen was founded by Nancy G. Brinker, who promised her sister, Susan G. Komen, that she would end the disease that claimed Suzy's life. Established in 1990 by passionate volunteers to support the individuals in need throughout the Houston area, Komen® Houston has granted over $48 million to local programs for breast cancer education and awareness campaigns, lifesaving screening and treatment programs, and innovative cutting edge research. Serving Brazoria, Chambers, Fort Bend, Galveston, Harris, Liberty and Montgomery counties, Komen Houston continues its commitment to fundraising and grant making so that families battling breast cancer can get the treatment and support they need.

About Stage Stores, Inc.
Stage Stores, Inc. brings nationally-recognized brand name apparel, accessories, cosmetics and footwear for the entire family to small and mid-size towns and communities through more than 858 stores located in 40 states. The company operates its department stores under the five names of Bealls, Goody's, Palais Royal, Peebles and Stage. For more information about Stage Stores, visit the company's website at www.stagestoresinc.com. Stage Stores is not affiliated with Bealls Florida, Georgia and Arizona or its subsidiaries.
If you would like to learn about volunteer opportunities, get information about the Komen Houston Race for the Cure® and other events, Visit komen-houston.org or call 713-783-9188. Connect with us on Facebook at facebook.com/komenhouston and Twitter @Komenhouston.