5 Unexpected Ways Businesses Can Use Smartphones to Drive Profit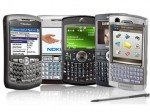 No matter the product, service or industry, mission or corporate philosophy, nearly every business is bottom line-driven. And, there is no shortage of ingenuity as to how companies try to glean more profit out of existing processes. Every so often, a new technology emerges that radically changes the productivity landscape and industry's related profitability potential in kind. Some notable advancements, of course, have included the assembly line, telephone, fax machine and the Internet. Today, there is a ubiquitous technology poised to revolutionize how business is done: the smartphone…but NOT for the reason you may think.
"While everyone concedes this versatile and portable device has forever changed social culture and that businesses already leverage smartphones for communication, companies are only now understanding the power of intra-company smartphone APPs as a mission-critical Mobile Process Improvement (MPI) asset that can actually drive productivity, enhance competitiveness and maximize revenue," notes profit-focused internet marketing strategist, Kirill Storch, CEO of Electric Web.
MPI is a burgeoning trend forecasted to have much upside potential. Research* revealed that MPI spending in the U.S. will grow 100% by 2015. By 2016, an additional 45 million employees in the U.S. are forecasted to use smartphones, priming them for MPI integration. By 2017 the MPI market in the U.S. is projected to reach a staggering $4 billion, fueled by cloud services and demand for connected anywhere-anytime enterprises. However, despite what is clear and abundant opportunity, studies also show that only approximately 10% of all U.S. firms have invested in MPI and that, by 2016, just over 30% of all U.S. firms will have made the investment. That said, there are some U.S. companies and organizations that are currently investing in MPI, including UPS, Amazon and the U.S. Army, which have already collectively saved upwards of $15 billion per year.So what exactly can a business do to save money with smartphone APPs? Here Storch cites five surprising ways businesses are leveraging MPI to promote profitability:
1. Field Employee Management
Over 45% of all businesses in the U.S. utilize some kind of remote employee—someone who is not at a specific work site at all hours of the day. In fact, 24% of all businesses are primarily field-based, from insurance claims adjustors to inspectors, gardeners, builders, consultants, sales agents, and many others. One primary problem with field employees is limited accountability since their whereabouts cannot be monitored at all times. Tardiness, time theft, and a general lack of information as to where employees are is an enormous and debilitating business issue, compounded by the fact that employees must frequently and proactively call in to get needed information from a home base to facilitate their field effort. Today, forward-thinking companies are tying their field forces together into a huge mobile grid that is supported by the employee's own smartphones. These APPs can be programmed to only allow field workers to clock in when they are at the actual job site, reducing time theft. This MPI APP allows employees to quickly access home office data on the go and, if an employee is sick while afield, they don't have to wait until the next day to call the home office as their app automatically summons a replacement the second they request a sick day. The total savings are immense.z