Ashleigh Smith of Lewisville, Texas Wins 3rd Annual Sarah Vaughan Vocal Competition
Larry Rosen Productions and Concord Music Group Provide Exclusive Recording Contract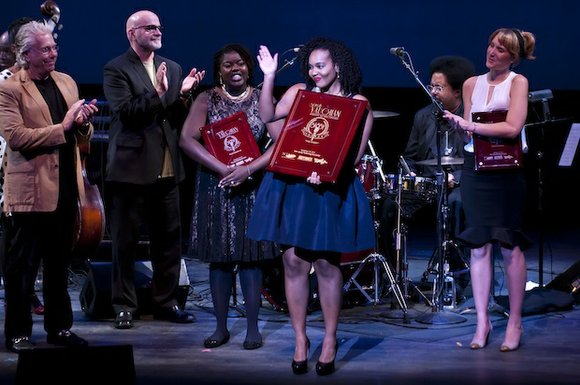 (Newark, New Jersey – November 18, 2014) Ashleigh Smith from Lewisville, Texas won the 3rd Annual Sarah Vaughan Competition held on Sunday, November 16 at the New Jersey Performing Arts Center (NJPAC) in Newark. NJPAC, Larry Rosen Productions (LRP), and Concord Music Group have created a landmark agreement to provide an exclusive recording contract offer to record and release an album on Concord Records to the winner of the 2014 Sarah Vaughan International Jazz Vocal Competition, now known as the SASSY awards. In addition to a recording contract offer, Smith also received a $5,000 cash award. The 2nd Place Winner of the Competition was Shacara Rogers, from Washington, DC, who was awarded a $1,500 cash prize and the 3rd Place Winner was Sarah McKenzie, from Boston, MA, who received a $500.00 cash award.
"I am thrilled to be the winner of this year's competition," remarked Smith. "I cannot explain how honored I am to be the recipient of the 2014 Sassy Award! Sarah Vaughan is the epitome of what it means to be a jazz vocalist and to even be thought of as good enough to grace the stage in her honor was more than enough for me."
The Concord arrangement is a three-year commitment by the record label to present an exclusive recording contract offer to the winner of the annual competition. The deal was struck between Concord GM Mark Wexler and the Sarah Vaughan Competition producer, Larry Rosen. This recording prize is in addition to the package of awards already presented to the Competition winner, which includes a $5,000 cash award and the opportunity to perform as part of the JAZZ ROOTS Concert Series.
"All of us at Concord are thrilled that Ashleigh Smith won the Sarah Vaughan International Jazz Vocal Competition," said Mark Wexler, General Manager/Senior Vice President, Concord-Telarc Group. "It's great to be involved in the process of finding and nurturing new artists, and working together in the development of their careers."
Smith was the first runner-up in the first Sarah Vaughan Competition that was held at NJPAC back in 2012. Smith said winning this year's award will allow her to share her love for jazz and music in general with a larger audience. She is looking forward to working on her album to tell her own story through music, to meeting new friends and to creating new experiences along the way.
"I hope with the opportunity that winning this award provides, that I am able to let the world know jazz is still thriving," said Smith. "It still needs to be heard and it will continue to be heard. I thank NJPAC, Larry Rosen and the entire judging panel for giving me this gift! I plan to hit the ground running and make even more music for all to enjoy."
The Sarah Vaughan Competition is the only international jazz vocal competition of its kind and provides a platform for one outstanding jazz singer to launch a career within the music business. Each year, NJPAC partners with Indaba Music's platform to launch the online portion of the competition, calling to action Indaba's global music community. The first two years of the competition saw nearly 1,500 total song submissions, which music fans from around the globe shared, listened, voted, commented on, and liked nearly one million times online. Furthermore, the competition received over 2 million hits during last year's competition, making this the world's most visible jazz vocal competition. Judges for the competition included Grammy Award-winning bassist Christian McBride, WBGO morning jazz host Gary Walker, multiplatinum-selling artist and composer Ann Hampton Callaway, multiple Grammy nominee Nnenna Freelon, and Peter Primont former CEO of Cherry Lane Music Publishing.