Terry Crews Talks Acting, Family and Owning a Farm
Jo-Carolyn Goode | 11/18/2014, 9:03 p.m. | Updated on 11/18/2014, 9:03 p.m.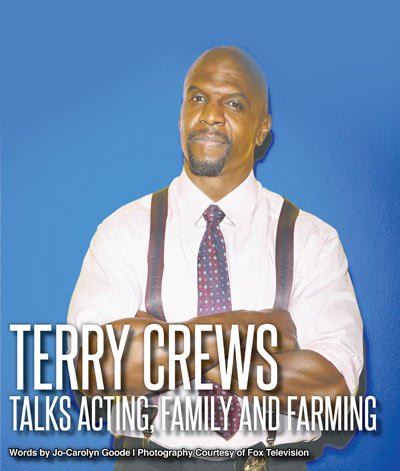 Being in a box limits the possibilities of how far one can go in life. With no room to expand opportunities are missed and one's full potential is never reached. This is why film and TV star Terry Crews lives outside the box. His goal in life is do everything he ever dreamed of and take advantage of everything opportunity that comes his way. He's checking them off one by one. Loving husband…checked. Devoted father…checked. Dominate football player…checked. Successful actor…checked. Entertaining game show host…checked. Educational author…checked. What else does Crews want to check off his list? Find out while reading Houston Style Magazine's interview with the multifaceted Terry Crews.
Crews seems to be popping of everywhere these days. Turn on your television to see him as NYPD Sergeant Terry Jeffords on Fox's Brooklyn Nine-Nine, hosting Who Wants to Be a Millionaire, and as the face of Old Spice. He has covered the big screen in films like The Expendables, White Chicks, and more are to follow. His name can be seen on bookstore shelves as the author of Manhood: How to Be a Better Man – or Just Live with One. And he is not done yet.
Before he was Terry Crews the actor, he was Terry Crews the baller. Drafter in 1991 by the Los Angeles Rams, Crews played with the San Diego Chargers, Washington Redskins, and Philadelphia Eagles before hanging up his cleats in 1997. Wanting to reinvent himself he jumped feet first into acting landing a gig as T-Money on Battle Dome, a televised athletic competition. Crews went from hoping the phone would ring to it ringing nonstop to become one of the most sought after in the industry.
"I prayed to get to this spot. I remember when no one called. When you have that memory of just sitting there of just praying and waiting and wishing somebody will give you a shot, and now that they do. It just feels really, really good. I am just very thankful. My heart just feels full of thanks for what I have right now. Nobody is going to appreciate what I have and what I am doing right now more than me," said an humble Crews.
What he is doing is making people laugh. In his current sitcom Fox's Brooklyn Nine-Nine, Crews plays NYPD Sergeant Terry Jeffords who he describes as the mother of the whole group and tries to keep the gang of detectives in line while still maintaining a leadership role in the precinct. "It is kind of wild," said Crews and it shows in every episode.
Out of all the characters he has portrayed, Crews admits that Jeffords is probably the most like him personally because the writers have put so much of Crews' own life into the character. "I go to work and I come home. That is basically my night and day and it's the same thing with Terry Jeffords," said Crews, who is a family guy at heart. He has been married for 25 years and the couple has 5 children. " I would look at myself as the police of my family. I don't really have a lot of patience for people who I feel are a danger to my family or me in anyway. I think that is the same thing when you look at Terry Jeffords as a police officer," said Crews. "I am that kind of guy in real life."