Advisory Committee Selected to Help Guide Arts and Cultural Plan Process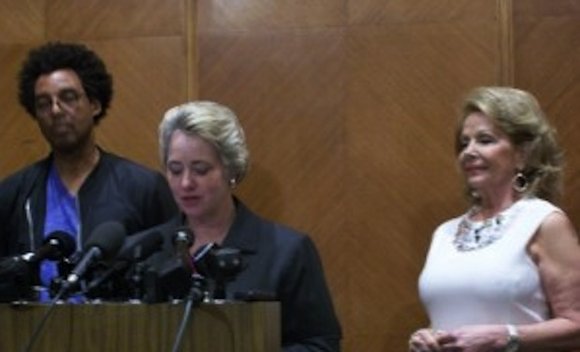 As part of the community engagement process, the Mayor's Office of Cultural Affairs has announced the creation of a volunteer committee to provide advice on the Arts and Cultural Plan vision and components.
Members of the new Arts and Cultural Plan Community Advisory Committee were invited to participate by Mayor Annise Parker and Co-Chairs Philamena Baird and Rick Lowe. The group includes individuals with a wide range of cultural backgrounds and community involvement from the nonprofit and creative sectors as well as the business community, academia, community development and service organizations, faith and healthcare.
"This is an exceptional group of individuals with significant expertise and insight," said Mayor Parker. "Their contribution to the process will be invaluable."
Community Advisory Committee members:
Omar Afra – Owner of Free Press Houston, Producer of the Free Press Summer Festival
Philamena Baird - Arts and Cultural Plan Co-Chair, Vice Chair of the Houston Arts Alliance, Boards of Directors of Children at Risk, Houston Sports Authority
Jane Cahill - Vice-President of the Super Neighborhood Alliance, Past-President of the Washington Avenue Coalition/Memorial Park Super Neighborhood (SN 22)
Cecil C. Conner, Jr. - Managing Director Emeritus of the Houston Ballet, Houston First Board of Directors
Terri Diraddo - Arts & Events Manager, Brookfield Office Properties
Jefferson Todd Frazier - Director, Methodist Hospital's Center for Performing Arts Medicine
Roland Garcia - Shareholder, Greenberg Traurig, LLP, Boards of Directors of Greater Houston Partnership and Houston Arts Alliance, Mayor's Hispanic Advisory Board
Sonia Garza-Monarchi - Garza Protocol Associates, LLC, Chair of the Greater Houston Convention and Visitors Bureau
Harry Gee - Harry Gee, Jr. and Associates, Houston Technology Center Board of Directors, UT School of Law Engergy Center Advisory Board
Jonathan Glus - President and CEO, Houston Arts Alliance
Guy Hagstette - Consultant, Buffalo Bayou Partnership, Blueprint Houston Board Member, General Plan Steering Committee
Vernita Harris - President of Impact Strategies Consultants, Chair of the Greater Houston Black Chamber of Commerce
Tammy Kahn - Executive Director, Children's Museum of Houston
Yani Rose Keo - Executive Director, Alliance for Multicultural Community Services
Duncan F. Klussmann - Superintendent of Schools, Spring Branch Independent School District
Perryn Leech - Managing Director of the Houston Grand Opera, Chair of the Theater District Association
Rick Lowe - Arts and Cultural Plan Co-Chair, Founder of Project Row Houses
Ayanna Mccloud - Artist and Program Director of Friends of Women's Studies at the University of Houston
David D. Medina - Director of Multicultural Community Relations, Rice University, Mayor's Hispanic Advisory Board, Nuestra Palabra Board of Directors
Jim Mills - General Manager of The Houstonian, Past Chair of the Hotel & Lodging Association of
Greater Houston
B.N. Murali - President of Beeken TechQuest Ltd., Chinmaya Mission Houston Board of Directors
Judy Nyquist - Community Volunteer, Boards of Directors of Buffalo Bayou Partnership, Hermann
Park Conservancy, Houston Arts Alliance
Theola Petteway - Executive Director, OST/Almeda Corridors Redevelopment Authority
Juanita Rasmus - Co-Pastor, St. John's United Methodist Church
Robert Robbins - President and CEO, Texas Medical Center
John Roberts - Dean, College of Liberal Arts and Social Sciences, University of Houston