Boko Haram Fast Facts
Willie Grace | 11/19/2014, 3:14 p.m. | Updated on 11/19/2014, 3:14 p.m.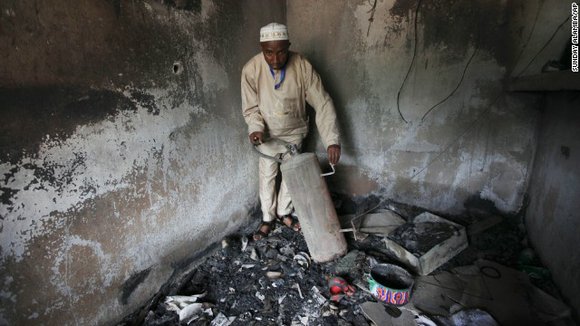 (CNN) -- Here's a look at Boko Haram, a militant Islamic group working out of Nigeria, whose purpose is to institute Sharia, or Islamic law.
Facts: In the local Hausa dialect, Boko Haram means "Western education is forbidden."
The group also refers to itself as Jama'atu Ahlis Sunna Lidda'awati Wal-Jihad, meaning "People Committed to the Propagation of the Prophet's Teachings and Jihad."
Boko Haram militants mainly inhabit areas in the northern states of Nigeria, specifically Yobe, Kano, Bauchi, Borno and Kaduna.
Originally, Boko Haram was referred to locally as the Nigerian Taliban because of their religious similarities to the Taliban.
Boko Haram does not engage in Nigeria's political system out of an adherence to a fundamentalist form of Islam, which forbids participation unless the system is based on Sharia, or Islamic law.
Boko Haram militants targeted and robbed banks in 2011.
Boko Haram-related violence has killed more than 4,000 people.
Timeline: 2002 - The group, which may have existed since the late 1990s, organizes under the Muslim cleric Mohammed Yusuf. It is centered in Maiduguri, the capital of the northeastern state of Borno.
December 2003 - The first known attack by Boko Haram includes roughly 200 militants, who attack multiple police stations in the state of Yobe, near the Niger border.
July 2009 - The Boko Haram uprising begins in Bauchi and spreads to the states of Borno, Kano and Yobe. The militant group kills scores of police officers. A joint military task force responds, leaving more than 700 Boko Haram members dead and its operational mosque destroyed. The uprising ends when police capture the group's leader, Mohammed Yusuf. His deputy, Abubakar Shekau, reportedly dies in the uprising. Yusuf later dies in police custody; police say he is shot during an attempted escape, but Boko Haram claims it is an extrajudicial execution.
August 2009 - Senior Boko Haram militant, Sanni Umaru, releases a statement claiming to be the new leader.
July 2010 - Boko Haram releases a video statement in which Yusuf's deputy who allegedly died the previous year, Abubakar Shekau, claims to be the leader of the group.
September 7, 2010 - In the state of Bauchi, 50 Boko Haram militants attack a prison, killing five people and releasing more than 700 inmates.
May 29, 2011 - The day of President Goodluck Jonathan's inauguration, Boko Haram detonates three IEDs near a military barracks in the city of Bauchi in Bauchi State. At least 10 people die in the attack.
July 7, 2011 - Boko Haram warns Muslims to avoid Christians, public servants and public buildings, and anything related to politics, "This is a government that is not Islamic. Therefore, all its employees - Muslims or non-Muslims - are infidels."
August 25, 2011 - Twelve people die after Boko Haram militants attack a police station and two banks in the city of Gombi in Adamawa.
August 26, 2011 - Boko Haram attacks the United Nations compound in Abuja. A car bomb kills 23 people and injures more than 75 others.