5 immigration myths debunked
Willie Grace | 11/20/2014, 8:09 p.m. | Updated on 11/20/2014, 8:09 p.m.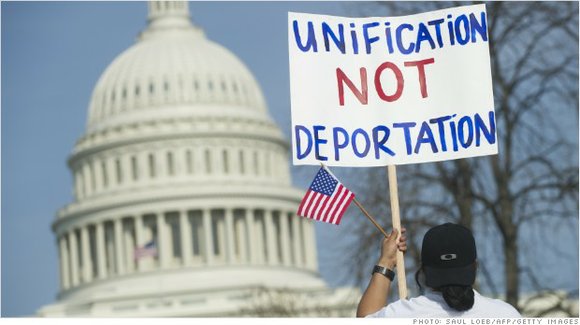 NEW YORK (CNNMoney) -- President Obama is taking executive action to protect millions of undocumented immigrants from deportation.
His plan has been a tough sell to the American people, especially with the new Republican-controlled Congress. But many experts agree that some of the arguments against immigration are based on misguided information.
Here are 5 myths about undocumented immigrants, and why they're wrong.
Myth # 1: They don't pay taxes
Undocumented immigrants are already U.S. taxpayers.
Collectively, they paid an estimated $10.6 billion to state and local taxes in 2010, according to the Institute on Taxation and Economic Policy (ITEP), a research organization that works on tax policy issues. Contributions varied by state. In Montana they contributed $2 million. In California, more than $2.2 billion. On average they pay about 6.4% of their income in state and local taxes, ITEP said.
A 2007 Congressional Budget Office (CBO) report on the impact of undocumented immigrants on the budgets of local and state governments cited IRS figures showing that 50% to 75% of the about 11 million unauthorized U.S. immigrants file and pay income taxes each year.
A 2013 CBO analysis of the failed bipartisan bill introduced by the so-called "gang of 8" that would have created a path to legal status for many undocumented immigrants found that increasing legal immigration would increase government spending on refundable tax credits, Medicaid and health insurance subsidies, among other federal benefits. But it would also create even more tax revenue by way of income and payroll taxes. That could reduce deficits by $175 billion over the first 10 years and by at least $700 billion in the second decade.
ITEP estimates that allowing certain immigrants to stay in the country and work legally would boost state and local tax contributions by $2 billion a year.
Myth # 2: They don't pay into Social Security
The truth is that undocumented immigrants contribute more in payroll taxes than they will ever consume in public benefits.
Take Social Security. According to the Social Security Administration (SSA), unauthorized immigrants -- who are not eligible to receive Social Security benefits -- have paid an eye-popping $100 billion into the fund over the past decade.
"They are paying an estimated $15 billion a year into Social Security with no intention of ever collecting benefits," Stephen Goss, chief actuary of the SSA told CNNMoney. "Without the estimated 3.1 million undocumented immigrants paying into the system, Social Security would have entered persistent shortfall of tax revenue to cover payouts starting in 2009," he said.
As the baby boom generation ages and retires, immigrant workers are key to shoring up Social Security and counteracting the effects of the decline in U.S.-born workers paying into the system, Goss said.
Without immigrants, the Social Security Board of Trustees projects that the system will no longer be able to pay the full promised benefits by 2037.
Myth #3: They drain the system
Undocumented immigrants do not qualify for welfare, food stamps, Medicaid, and most other public benefits. Most of these programs require proof of legal immigration status and under the 1996 welfare law, even legal immigrants cannot receive these benefits until they have been in the United States for more than five years.