Roger Federer, Switzerland win first Davis Cup tennis title
Willie Grace | 11/23/2014, 11:21 p.m. | Updated on 11/23/2014, 11:21 p.m.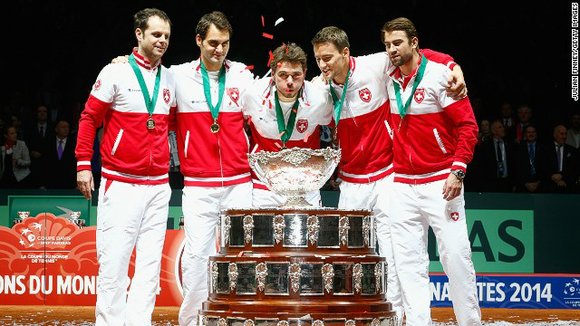 LILLE (CNN) -- A year that began in uncertainty for Roger Federer ended with a historic title for the 17-time grand slam champion and his country.
When Federer defeated Richard Gasquet of France 6-4 6-2 6-2 in front of another record crowd Sunday, it gave Federer a maiden Davis Cup title at the not so tender age of 33. The visitors prevailed 3-1 in the best-of-five match series.
Switzerland had never before won team tennis' most prestigious event, playing in one previous final in 1992 when Federer was merely 11.
"For me personally, obviously I'm unbelievably happy because I've been playing in this competition for probably almost 15 years now," Federer told reporters as he sat among his teammates. "At the end of the day I wanted it more for the guys.
"This is one for the boys."
With Federer committing to every round of the Davis Cup this season -- unlike in years past -- and the emergence of compatriot Stan Wawrinka, it greatly boosted Switzerland's chances of success.
Federer thus concluded 2014 with one of the biggest titles to elude him and a ranking of No. 2, a considerable achievement given back issues largely contributed to his ranking slipping to eighth in January.
Indeed, some wondered -- with justification -- if Federer could ever come close to recapturing his old form.
He did, and Federer was sharp Saturday in doubles alongside Wawrinka and then dominant against Gasquet in Lille, northern France.
Only one week ago Federer was, according to Novak Djokovic, a "question mark" for the Davis Cup final after he withdrew from the final of the World Tour Finals in London against the No. 1 with further back troubles.
His name was included in the Davis Cup draw Thursday, ensuring one of the highest profile finals in recent memory, but Federer suffered his most lopsided loss in the competition Friday against Gael Monfils.
The positive, he insisted afterwards, was that his body felt fine as the match progressed, and his words ultimately were not a smoke screen.
To say that Federer toyed with Gasquet wouldn't be much of a stretch. Gasquet, 2-12 versus Federer entering the match, started with an emphatic hold, but that was as good as it got for the protégé who has never quite delivered.
"You saw how well Roger was playing, how he just killed Richard today," said Wawrinka.
Gasquet, replacing the injured Jo-Wilfried Tsonga, was broken for 2-1, which set the tone.
Federer lost just 14 points on his own serve and didn't face a break point. Evidencing how well his back must have been feeling, he soared and stretched to put away a smash with venomous side spin in the second set.
There was deft touch to seal the tie, Federer executing a half-volley drop shot before falling onto the clay at the Stade Pierre Mauroy. He joined the likes of Rafael Nadal, Rod Laver and Andre Agassi in winning a Davis Cup plus all four majors.