Sol-Caritas Does It Again With Latest "Houston All Stars of Comedy" Show at the Improv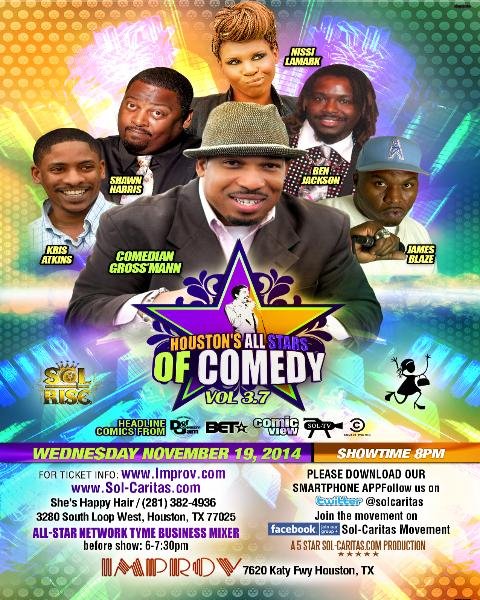 While many fans of the Sol-Caritas produced "Houston's All Stars of Comedy" series have gotten used to funny man Comedian Gross'Mann hosting each event, on November 19, he gave a friendly reminder that he can still lead the show. With enough material to easily craft his own comedy special, it was easy to see why fans were rushing to purchase his DVDs after the show.
Hosting duties were turned over to BET comedian Shawn Harris, who did a tremendous job of keeping the show moving smoothly and was later given special recognition, (in the form of a what Grossman joked was a "small ass cake") in celebration of reaching over 20 years in the industry.
Held at the Houston Improv, the event was kicked off by rising poet Khalid the Future, who most certainly gained a new legion of fans after bringing the audience to an awed hush with his powerful performance. Even those like myself, who are not truly into poetry had to salute with a few snaps. He can next be seen at the upcoming "Kings of the Mic" show.
Other comics included the incredibly funny Kris Atkins - who put a hilarious spin on the "plight of the short man," James Blaze, Ben Jackson and the sole female presence on the line-up, Nissi Lamark. Though a few jokes and barbs missed their mark, this line-up was crafted of an excellent group of newer comics, proving that Houston is ripe with comedic talent.
Branching off into comedy, poetry and more; Sol Caritas has created a growing entertainment empire, in part because of the consistent success of the 'All Stars' series, and this one was no exception.