Champions League: Lionel Messi breaks goalscoring record
Willie Grace | 11/25/2014, 8:39 p.m. | Updated on 11/25/2014, 8:39 p.m.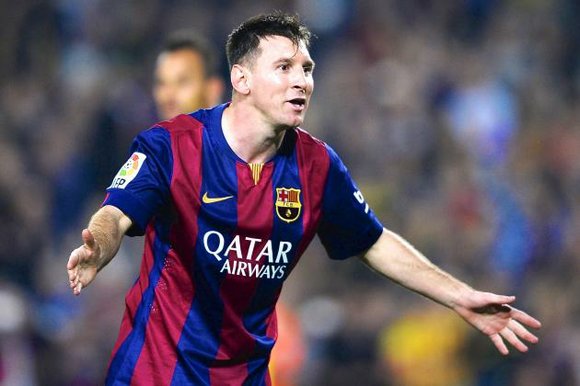 (CNN) -- Another day, another record broken.
Lionel Messi must sometimes wonder what all the fuss is about but to those in the outside world who remain permanently entranced by the genius contained within his feet, it was another opportunity to unleash a barrage of superlatives towards a football phenomenon.
Just days after breaking the record for the top scorer in Spanish football history, Messi went one further, establishing himself as the leading marksman in the history of the European Champions League.
Messi scored a hat-trick for Barcelona in its 4-0 victory against Apoel Nicosia in Cyprus on Wednesday to take his tally to 74 goals in 91 appearances.
Raul, who scored 71 goals in 142 appearances, was unlikely to hold onto his record for much longer with Messi and Cristiano Ronaldo rewriting the history books.
Messi,who began the night level with Raul, required 38 minutes to break the record before adding a couple more for good measure later on.
He now sits three clear of Ronaldo, who will hope to feature for Real against Swiss side Basel on Wednesday night.
It is easy to forget that Messi is only 27. This latest landmark is just one in a number which he has reached in recent years.
The Barcelona forward, whose future at the club has come under some question in recent weeks, hit the headlines last weekend by scoring a hat-trick in the 5-1 win over Sevilla.
Telmo Zarra's record of 251 Spanish league goals had stood for 59-years but it would take a brave person to bet against Messi's remaining longer.
Messi's record of 253 will no doubt be extended in years to come as will his exploits in the Champions League.
The forward has scored 368 goals in all competitions for Barcelona so far, while he registered 91 times during an incredible 2012 -- beating the previous best of 85 in a calendar year by Gerd Muller.
The 2011-12 campaign was one of Messi's most successful as he scored 68 goals, 50 of those coming in just 37 league games, 44 with his left foot and just one with his head.
Messi, who won the prestigious Ballon d'Or four times between 2009-12, netted in 21 consecutive league matches last season which enabled him to score against every other club in the Spanish top flight.
With his team safely through to the next stage of the competition, Messi will hope to inspire Barcelona to Champions League glory following a disappointing campaign last year.
One man who is eager to help Messi achieve the feat is Luis Suarez, who scored his first goal for the club since joining from Liverpool.
Suarez scored the opening goal in Cyprus before Messi took over, scoring three times to secure the win.
Barcelona sits second in its group, a point behind Paris Saint-Germain, which defeated Ajax 3-1 to remain top.
Awesome Aguero
Messi wasn't the only Argentina striker to hit a hat-trick on Wednesday as Sergio Aguero's triple propelled Manchester City to a 3-2 win over Bayern Munich.