Houston Premiere of 'Lap Dance' on Set for Sunday, December 7th @ 8:00 P.M. at the Alamo Draft House Cinema Theatre on Vintage
All proceeds to benefit S.W.A.M.P.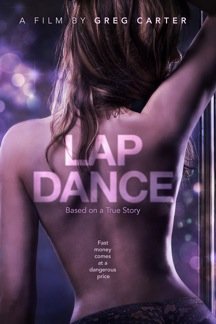 Greg Carter's latest feature film, 'Lap Dance', opens in theatres in Los Angeles, New York and Houston beginning December the 4th and set to debut on VOD (AT&T, Cablevision, Cox, Direct TV, Dish, Frontier, In Demand (Brighthouse, Cox, Time Warner) Verizon) and Digital Download (iTunes, Microsoft, Google, Sony, MGO, Blockbuster, Amazon, Vudu Midwest) starting December 9th . .

Proceeds from the Houston screening will benefit the South West Alternate Media Project (SWAMP). Alfred Cervantes, deputy director of the Houston Film Commission will introduce the film and entertainment attorney Jalene Mack with moderate the Q/A with Mr. Carter following the screening. A red carpet reception shall be held immediately following the screening at Barcelona Restaurant and Lounge located at 110 Vintage Park Blvd, Suite B, Houston, Texas. Tickets can be purchased at the box office or from SWAMP. The trailer can be screened on Youtube via this link https://www.youtube.com/watch?v=QQrA3vyJzDk&feature=youtu.be
Lap Dance, Greg's latest directorial effort that he also wrote and produced, is based on he and his girlfriend's true story prior to their move to Los Angeles in 2005. The movie was shot on location in Houston and Los Angeles in the Fall of 2012 and released by eOne Entertainment. Lap Dance will also premiere on the Showtime in Spring of 2015.
'Lap Dance' - Feature-length motion picture. Based on a true story, the movie is a romantic drama shot in Los Angeles. Kevin, a promising screenwriter and Monica, an aspiring actress are recent college graduates driving across country to Los Angeles where they plan to make a home and follow their Hollywood dreams together. The newly engaged couple's plan is derailed when a pit stop in Houston reveals that Monica's father has cancer. Taking on the financial burden of her father's medical bills, their savings are soon depleted. Strapped for cash, the couple make a pact so Monica can take a high paying job as an exotic dancer in order to pay her cancer stricken father's expenses. But can any relationship withstand the club's seduction and temptations? Once the pact is broken, their lives are changed forever.

Lap Dance has an all-star cast featuring Carmen Electra, Mariel Hemingway, James Remar, Ali Cobrin, Robert Hoffman, Lynn Whitfield, Lou Temple, Obba Babatunde, Briana Evigan,Datari Turner, Nia Peoples, Stacey Dash, Lisa Raye, K.D. Aubert, Quinton Aaron, Jonathan Daniel Brown, Kenny Wormald, Omari Hardwick, Omar Gooding, Keith Robinson, Christian Keyes, Wesley Jonathan, and Terrell "T.O." Owens.
A host of Houston's local talent rocks the screen as well. Jalene Mack ( Hurricane Season, American Dream), Stephon "007" Davis( American Dream, Puncture, & Prison Break), Junie Hoang (American Dream, & Treasures In The Hood), and Crystal Maywald (American Dream).
SWAMP is a Texas-based media arts center committed to the film and video art of this region, to artists producing independent images, and to the cultivation of an engaged audience.SWAMP supports artists who express their visions through film, video, and new media. In addition to supporting filmmakers, SWAMP appeals to audiences who seek out creative voices that reflect, celebrate, and examine the cultural, social, and political diversity of their localities. Incorporated as a 501(c)(3) non-profit media arts center in 1977, SWAMP is Houston's premier creative resource for filmmakers and film lovers. SWAMP promotes film, video and new media through education, information, and presentation activities for all ages.
For more information regarding Filmmaker Greg Carter and "Lap Dance", visit the related links below:
www.nexus-films.com http://www.thebarcelonalounge.com/ http://www.imdb.com/name/nm0141646/ http://entertainmentone.com/films?lang=en-US http://www.swamp.org/
http://drafthouse.com/houston/vintage_park/vintage_park_directions_parking/
Official Trailer
https://www.youtube.com/watch?v=QQrA3vyJzDk&feature=youtu.be