Kevin Hart Gives Will Ferrell Cornrows on First Poster for 'Get Hard'
Willie Grace | 11/25/2014, 11:08 a.m. | Updated on 11/25/2014, 11:08 a.m.
This week brought our first look at the forthcoming comedy Get Hard starring Will Ferrell and Kevin Hart, and it shows the latter comedian attempting to turn the former into a tough guy so he's prepared for prison after being convicted of a white collar crime. But the first poster for the film shows us something that we didn't see in the photos, and that's Ferrell getting cornrows in his bushy hair, courtesy of Hart. For those anxious to see how this comedy looks, the first trailer arrives next Tuesday evening, so stay tuned to see if Hart teaming up with Ferrell actually results in a solid comedy with big laughs. We're hoping for the best.
Here's the first poster for Etan Cohen's Get Hard from Yahoo: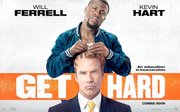 Get Hard marks the feature directorial debut of Etan Cohen (writer of Men in Black III, Tropic Thunder, Idiocracy) with a script he wrote with Ian Roberts & Jay Martel (both writers of the series "Key & Peele"). A rich bank manager (Will Ferrell) is wrongfully convicted and sentenced to time in a maximum security prison. To prepare himself for his incarceration, the banker hires the man who washes his car (Kevin Hart) to toughen him up in his final 30 days of freedom. Alison Brie, Craig T. Nelson and Edwina Findley also star in the film which Warner Bros. Pictures has slated for release next spring on March 27th, 2015.
For more information go to http://www.firstshowing.net