The new Lewis Hamilton: Faster, stronger and more Zen?
Willie Grace | 11/25/2014, 8:45 p.m. | Updated on 11/25/2014, 8:45 p.m.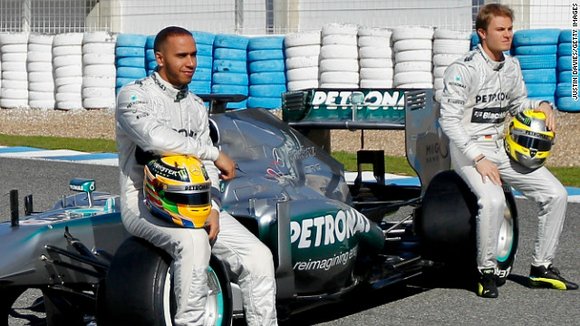 (CNN) -- Lewis Hamilton has always been driven by his emotions -- for better or for worse -- but has he found a new level of maturity with Mercedes?
The double world champion has been schooled in the harsh lessons that Formula One can mete out since he joined McLaren's junior program when just 13 years old.
But, despite this careful education by one of the most straight laced teams in F1, the British boy racer cannot help wearing his heart on his sleeve.
There have been some heady highs and mesmerizing meltdowns in his eight-year career at the highest level of motorsport.
Fizzing with energy, he bounded into the sport in 2007 and refused to lie down when faced with Fernando Alonso, a double world champion, as his feisty McLaren teammate.
With Alonso gone after a single acrimonious season, Hamilton drove the McLaren to the 2008 title with "my heart in my mouth."
At just 23 years old, he had sensationally clinched the championship at the last corner, of the last lap, of the last race to deny Ferrari's Felipe Massa -- and a seething crowd of home fans -- in Brazil.
If 2008 was the young gun's giddy zenith, the 2011 campaign was his gut-wrenching nadir.
His long-distance relationship with American pop star Nicole Scherzinger was more off than on and he had ditched his dad Anthony as manager in favor of a high-profile agency.
Hamilton teetered on the edge of controversy and despair. The torch paper was lit at the Monaco Grand Prix when he was penalized by the race stewards.
"It's an absolute frickin' joke," he exclaimed. "Maybe it's because I'm black. That's what Ali G says."
When Hamilton made a surprise switch to Mercedes in 2013, the team would have been well aware that while his impulses propelled him on track, off it they could do more harm than good.
"He is an emotionally driven individual," Hamilton's biographer Mark Hughes tells CNN. "You are never going to change that.
"His emotions were all over the place in 2007 and 2008, and in 2011 he was having big mood swings because of problems off track."
Locked in another intense title fight in 2014, the unpredictably passionate Hamilton had to sink or swim in the cauldron of competition.
But, despite the swirling emotions of fighting mano a mano with his Mercedes teammate and close teenage friend Nico Rosberg, Hamilton impressively kept his head above water to win a second world title with some style.
So, what's changed?
"He is essentially the same guy [as in 2008] but he definitely seemed more in control of himself at the crucial pressure points on race days," Hughes adds.
"He does seem to be in a calm place now and I'd say he's slightly more mature."
Hamilton's inner calm held out despite an F1 season filled with flashpoints that threatened to derail his peace of mind.
The Mercedes rivals tested each other's limits in Bahrain, where Hamilton had cut across Rosberg to retake the lead.