The Hysterical Horrible Bosses 2 Joke That Never Got Shot
Willie Grace | 11/26/2014, 5:44 p.m. | Updated on 11/26/2014, 5:44 p.m.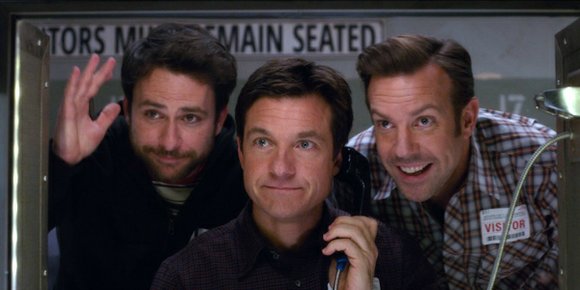 The three dudes with criminal malice in their eyes are about to unleash comedic hell at the box office as Horrible Bosses 2 rolls into theaters. There are a lot of new faces joining Jason Bateman, Jason Sudekis and Charlie Day on their misadventure, with Chris Pine and Christoph Waltz standing in for former bosses like Kevin Spacey and Jennifer Aniston. But if a deleted scene were to actually play out, we might have had a comedy franchise super team in the makings.
While being interviewed by EW, the guys were asked if there were any jokes that they wanted to get in that didn't ake the cut. And as it turned out, Jason Sudekis had a funny idea for a comedy cameo, that would have went like this:
We talked about at one point being with Motherf—er Jones (Jamie Foxx) and he says, 'You crackers got to go, I've got some other crackers coming in.' And then the three Hangover guys come and sit in the booth."
He even goes so far as to say that he pitched the idea to Zach Galifianakis, who might have told Ed Helms. But the idea stalled there, and Sudekis admits, "It would take you out of [the movie]."
The Horrible Bosses 2 cast already is pretty crowded, as you can tell by the film's poster. But I'm not opposed to this idea of franchises mixing and matching their talents in some Avengers-style romp. And not just funny people, but familiar characters who can share adventures. As I wrote in my review, I don't necessarily want to see a third Horrible Bosses, because I think the concept has played itself out. But I like those three characters, and I could see them showing up in, like, a Police Academy movie.
Then again, we should just hire every funny person we can find and reboot this series.
For more information go to http://www.cinemablend.com