Friday Night Love Fest!
Erik Cork | 10/7/2014, 9:47 a.m. | Updated on 10/7/2014, 9:47 a.m.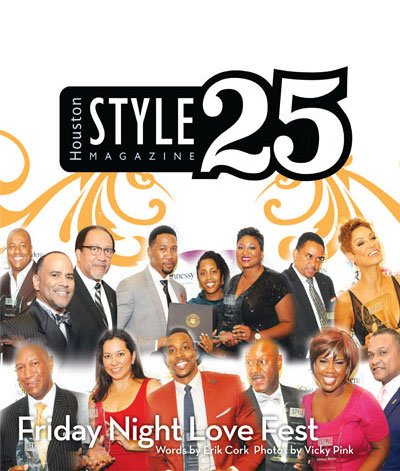 Houston Style Magazine's 25th Anniversary Gala extravaganza was a smashing, standing-room-only success! The fortunate few who were granted access into the wall-to-wall, star-studded event of the year at Del Frisco's Steakhouse in the Galleria on Friday, October 3, 2014 now appreciate the fact we were holding the hottest ticket in town.

Our silver anniversary celebration quickly evolved into a true love fest for our founder and publisher, Francis Page, Jr., who personally bestowed upon me the honor of being the host/emcee for our enchanted evening. I enjoyed a front row seat as the flow of bubbly accolades poured in non-stop, like Nicole Murphy's Destiny Moscato, into the heart of one of America's leading urban weekly publications. Murphy and her stunning entourage of gorgeous super-models and savvy business partners were in attendance, along with some of the most beautiful and successful African Americans in H-Town and beyond.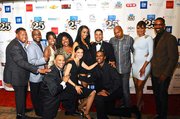 Houston Rockets' superstar, Dwight Howard was named Houston Style Magazine's 2014 Champion of Change in recognition of his numerous charitable contributions and community outreach efforts. During his entertaining and enlightening acceptance speech, Howard revealed the three secret signs he received which convinced him to leave the Los Angeles Lakers and sign with the Houston Rockets. Everyone gasped! It almost made everyone start to believe that God is a die-hard Houstonian. Howard, along with R&B's brightest new sensation, Leela James, both found themselves instantly surrounded and swarmed by an eclectic selection of fans and corporate executives from around the country and around the world.

Legendary leader and former South African President Nelson Mandela was in heaven beaming with pride as his noble grandson, Ndaba Mandela, dazzled the adoring audience as our gala's keynote speaker. Afterwards, he was named as Houston Style Magazine's 2014 Global Humanitarian of the Year. The third generation leader of his granddad's ANC party urged each person sitting on the edge of their seats who listened to his eloquent speech to help spread the word that over 70% of his ambitious countrymen and women are under the age of 35. He passionately reminded us that his beautiful nation is fertile soil for serious education efforts and start-up opportunities for entrepreneurs and Fortune 500 companies alike. Houston Style Magazine's angelic and intelligent ambassador, Gabrielle Deculus, treated young Mandela like a royal king during his first visit to Houston. Viva South Africa!
Francis Page, Jr. has been unbelievably busy for the past 25 years! It was as if everyone he knows from coast-to-coast all showed up to simultaneously say, "We love you, Francis, AND the lasting legacy you are leaving in this city." Rarely does anyone get to wallow in the priceless moment in life where they are alive to experience the fresh fragrance of flowers called unscripted compliments from family, friends, celebrities and loyal supporters all assembled in one small banquet room for one great big group hug in your honor! Francis and Houston Style Magazine were, indeed, the toasts of the town last Friday night.
New York native and Texas Southern University alumni, Tony Wyllie of the National Football League's Washington Redskins, earned Houston Style Magazine's 2014 Hometown Hero Award as the highest ranking minority PR executive in all of sports. Houston Style Magazine's national diva darling, the irrepressible Rebecca Briscoe, rolled out the red carpet for both future sports Hall of Famers', Tony Wyllie and Dwight Howard. Both gentlemen brought their families with them to Del Frisco's Steakhouse last Friday night to witness another positive moment in these gallant men's lives. Wyllie didn't bite his tongue as he demonstrated in living color why he holds the record as the five-time winner of the NFL's prestigious Pete Rozelle Award as PR Executive of the Year!