Friday Night Love Fest!
Erik Cork | 10/7/2014, 9:47 a.m. | Updated on 10/7/2014, 9:47 a.m.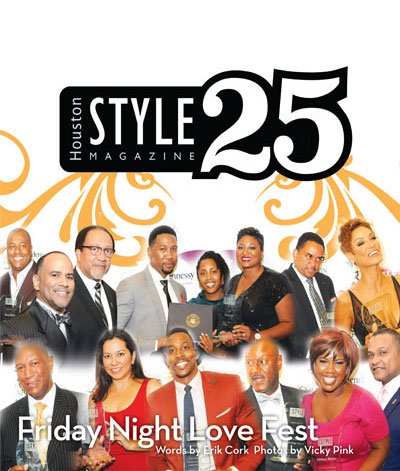 The fiery Cloves C. Campbell, Jr. of Arizona joined civil rights icon, Dr. Ben Chavis, to enthusiastically address the audience on behalf of the National Newspaper Publishers Association (NNPA). Campbell revealed that only 200 African American publications are still in weekly or monthly circulation, and that we are among an elite group of dwindling front-line word warriors and editorial stalwarts still dedicated to sharing the dreams and struggles of the voiceless, and telling the real/raw stories of our people while never ceasing to celebrate our achievements and worthwhile accomplishments. Campbell was also fixated on Francis' wavy black hair.
Those two distinguished gentlemen from the NNPA were unknowingly, but obviously, referring to Houston Style Magazine's marvelous managing editor, Jo-Carolyn Goode, who is perhaps the hardest working member of our team. Jo seldom speaks at staff meetings because her head is always buried in her laptop. Goode is actually GREAT at guaranteeing that the feature stories you click on are well-written and worth your time, such as the amazing commemorative issue marking our 25 years of public service. Hopefully, you had a chance to pick up a free copy from one of your local newsstand. If not, it is always available online. Jo-Carolyn is a faithful soldier whom God has gifted with an eye for grammatical detail, as well as being an inspirational example of strength who encourages everyone around her to persevere in spite of their own challenging circumstances.
Julie Griffith's stylish, European sensibilities did not stop her from getting down and dirty in the Galleria last Friday night. As wave-after-wave of famous celebrities looked to someone in a leadership position to hold their hands and guide them through the gauntlet of cameras and cell phone gawkers gathered to capture the exact moment they walked through the door at Del Frisco's to grace Houston Style Magazine with their global presence and millions of social media followers, jolly Julie was more than up to the task. Neither Dale nor the loud music of his DJ friend were a match for Griffith's laser beam focus to escort Houston Style Magazine's special guests to their reserved seats near the front where I stood all night. There was no place else to move due to the sold-out status of Houston Style Magazine's grand affair. I was guilty of whispering curious observations to Dwight Howard and his sensational, statuesque companion, Christine. I accidentally kept making them both laugh and snicker during a few slightly inappropriate moments. A great time was enjoyed by all.
Houston Style Magazine acknowledged our loyal business partners and some of our most exceptional corporate leaders. Magnificent Maria Rios accepted Houston Style Magazine's 2014 Legacy Award, which we reserved especially for the elegant grasp of Macy's Department Stores. Ultra dashing James Harris accepted Houston Style Magazine's 2014 Heritage Award given to my (and your) H-E-B. Cool, cavalier Cary Yates embraced Houston Style Magazine's 2014 Triumph Award on behalf of community investment leader Wells Fargo Bank. Lavishly radiant LaShica Salter Velazquez (wife of Eric) accepted Houston Style Magazine's 2014 Visionary Award in honor of mega-giant Wal-Mart. Last, but certainly not least, Detroit's leading lady of delightful distinction, Joycelyn Allen, accepted Houston Style Magazine's 2014 Pinnacle Award bestowed upon Chevrolet/General Motors for being one of the best business partners in the 25 year history of Houston Style Magazine.