Texas' SAT Math Scores Hit a 22-Year Low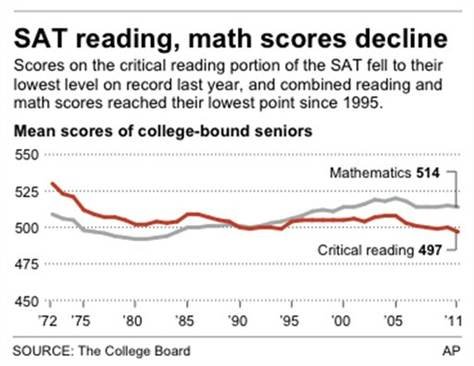 By Terrence Stutz
AUSTIN — Texas high school students slipped to their lowest SAT math scores in more than two decades this year, while reading scores on the college entrance exam were the second lowest during that period.
Results being released Tuesday by the College Board, which administers the exam, showed that the average score on the math section of the SAT dropped four points from last year to 495. That was the lowest figure since 1992, when Texas students recorded an average score of 493. A perfect score is 800.
In reading, the Class of 2014 in Texas scored an average 476. That was down slightly from last year but still two points better than their worst showing in the past two decades. That occurred in 2012.
In writing, Texas students registered an average 461 for the third year in a row.
Students across the U.S. saw their scores in math drop slightly. But the long-standing achievement gap between Texas and the nation grew significantly this year. In reading, the average score nationwide increased slightly and remained well above the average in Texas.
State education officials have attributed the declining SAT scores in Texas to an increase in the number of minority students taking the exam. Minorities generally perform worse than white students on standardized achievement tests like the SAT and ACT, the nation's two leading college entrance exams.
However, California students outperformed Texans by big margins this year — 15 points in math and 22 points in reading. Demographics of the student populations in the two states are similar: California is 52.7 percent Hispanic and 25.5 percent white, while Texas is 51.3 percent Hispanic and 30 percent white.
More at DallasNews.com