Chipotle's New Vegan Menu Item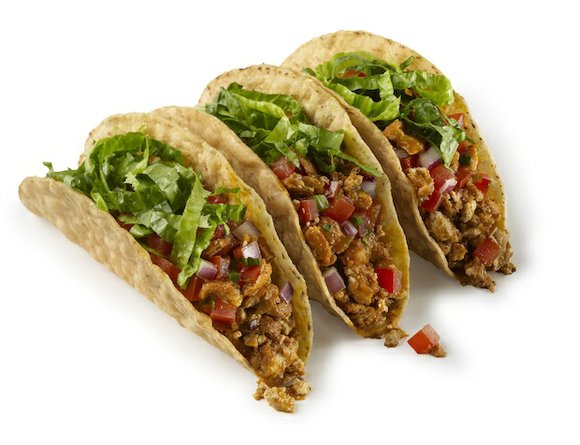 Chipotle Mexican Grill (NYSE: CMG) will introduce its new vegan Sofritas® menu item to each of its restaurants in the South and Southeast regions, including Texas, Louisiana, Arkansas, Alabama, Tennessee, Florida, Georgia, North Carolina and South Carolina on Oct. 13. The rollout expands on the success of the test launches in California, Colorado, the Pacific Northwest, Chicago and select East Coast cities, and the placement as a permanent menu item in Boston and New York earlier this year. "Sofritas" – organic shredded tofu braised with chipotle chiles, roasted poblano peppers and a blend of aromatic spices – takes its name from "sofrito," an aromatic combination of peppers, onions, sautéed garlic and tomatoes often used as a base in many Spanish and Latin American dishes.
"Sofritas is a very different kind of menu item, not just for Chipotle but for any fast food or fast casual restaurant," said Steve Ells, Chipotle founder, chairman and co-CEO. "In creating the recipe for Sofritas, we wanted to produce something that would appeal to vegetarian and vegan customers, but that was delicious enough to have crossover appeal as well."
Chipotle's tofu supplier, Hodo Soy, is known as an industry leader for its organic, non-GMO tofu and artisanal methods of production. The San Francisco Bay Area company's mission is to craft the highest-quality, best-tasting whole bean tofu, and Hodo Soy has become one of the most reputable tofu producers in the country. Its products are currently featured in some of the area's leading restaurants, as well as farmers' markets and specialty food stores.
Sofritas is available in burritos, tacos, burrito bowls and salads and can be combined with other signature ingredients, including white or brown cilantro-lime rice, pinto beans or vegetarian black beans, house-made salsas and guacamole, and cheese or sour cream.
Sofritas will become a permanent menu item in all U.S. Chipotle restaurants by the end of the year.
ABOUT CHIPOTLE
Steve Ells, founder, chairman and co-CEO, started Chipotle with the idea that food served fast did not have to be a typical fast food experience. Today, Chipotle continues to offer a focused menu of burritos, tacos, burrito bowls (a burrito without the tortilla) and salads made from fresh, high-quality raw ingredients, prepared using classic cooking methods and served in a distinctive atmosphere. Through our vision of Food With Integrity, Chipotle is seeking better food from using ingredients that are not only fresh, but that—where possible—are sustainably grown and Responsibly Raised™ with respect for the animals, the land, and the farmers who produce the food. In order to achieve this vision, we focus on building a special people culture that is centered on creating teams of top performers empowered to achieve high standards. This people culture not only leads to a better dining experience for our customers, it also allows us to develop future leaders from within. Chipotle opened with a single restaurant in 1993 and currently operates more than 1,700 restaurants. For more information, visit Chipotle.com.