TOYOTA Introduces its First Hispanic Woman-Owned Direct Tier 1 Supplier
Includes the First Direct Tier 1, Hispanic Woman-Owned Enterprise to Supply Toyota
SAN ANTONIO (September 12, 2014) - Bienvenidos! Welcome! Yokoso!
Toyota today introduced Forma Automotive LLC and ASI to its team of on-site suppliers as a result of continued high truck demand, solidifying Team Texas's long-term commitment to the city's South Side.
Forma Automotive LLC, owned by Rosa Santana, represents the first direct Tier 1, Hispanic woman-owned enterprise to supply Toyota and will assemble Tacoma truck beds inside the Toyota plant. ASI, a supplier of exhaust systems, began construction on a greenfield facility in the spring. Each supplier will hire about 50 people by June 2015.
"We are proud partners with our on-site suppliers and thank them for their continued efforts to help us improve and ultimately focus on building safe, high-quality Texas-built Tacomas and Tundras for our loyal customers," said Joe DaRosa, president of Toyota Texas. "We welcome ASI and Forma Automotive to our team and remain committed to always building better trucks."
Toyota Texas represents a $2.2 billion investment and assembles Tundra and Tacoma pickup trucks. The plant has an annual capacity to produce more than 200,000 trucks and directly employs 2,900 workers.
About Toyota
Toyota (NYSE:TM), the world's top automaker and creator of the Prius, is committed to building vehicles for the way people live through our Toyota, Lexus and Scion brands. Over the past 50 years, we've built more than 25 million cars and trucks in North America, where we operate 14 manufacturing plants (10 in the U.S.) and directly employ more than 40,000 people (more than 32,000 in the U.S.). Our 1,800 North American dealerships (1,500 in the U.S.) sold more than 2.5 million cars and trucks (more than 2.2 million in the U.S.) in 2013 - and about 80 percent of all Toyota vehicles sold over the past 20 years are still on the road today.
A Few Words from the SMSDC President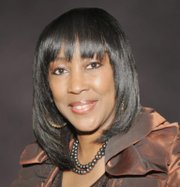 At SMSDC, we are very proud to know that Forma is one of Our Certified MBEs. When our certification makes the difference for corporate member opportunities, we know the work that we do is very well received and recognized. Congratulations to Toyota for their commitment to Supplier Diversity and launching this awesome partnership and Congratulations to Rosa Santana of Forma for being ready, willing and able when the opportunity was presented. Much Success to you all!
For more information, visit toyota.com.