The Stafford Centre: 10 Great Years and 3 Million People!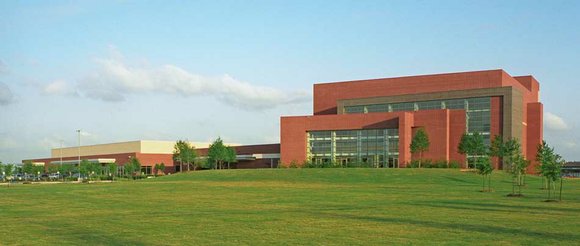 Houston, TX (October 7, 2014) The Stafford Centre officially opened it's doors in 2004 and this
year marks its anniversary celebrating 10 great years in the community. Since the Centre's opening, it has welcomed over 3 million people to the facility. The Stafford Centre sits on 42 acres of land and offers 25,000 square feet of ballroom and exhibit halls and a 1,154 seat performing arts theatre as well as outdoor festival green space.
Mayor Leonard Scarcella remarks, "I'm proud the Stafford Centre hosts a broad mix of multi-cultural events that serves the needs and enjoyment of the community. The array of outstanding performances and successful events continues to impress. The Stafford Centre features business and entertainment options for the diverse cultures of our city and the greater Houston area. I would like to personally invite everyone to celebrate with us at our upcoming 10th anniversary events."
On October 23rd at 7:30 p.m., the Fort Bend Symphony Orchestra and members of the Stafford Municipal School District band will take the stage for a special showcase. The concert is free to the public. Katie Truax, president of the FBSO, said "We are thrilled to celebrate the ten-year anniversary of the Stafford Centre with an exciting concert in collaboration with Stafford High School. Our conductor, Dr. Dominique Royem, is delighted to showcase the talents of the young musicians alongside those of the dedicated FBSO players, and promises it will be a fun event with great music and many surprises!"
The next event on October 24th at 7:30 p.m. will feature Bobby Hendrick's Drifters for a dinner and show at the Stafford Centre hosted by the Mayor, City Council and the Stafford Economic Development Corporation. The ticket price is $25.00 and includes dinner, dancing and program.
As part of their mission, they offer free parking and ticket prices do not include hidden processing fees, surcharges or convenience fees making your enjoyment at the Stafford Centre a little more economical. They will host additional anniversary events through the end of the year such as a drive-in movie for the whole family and a Santa's Village. Check their website at www.staffordcentre.com for more information and tickets or contact the box office at 281-208-6900. The Stafford Centre is located at 10505 Cash Road in Stafford