Sylvia's Sunday Brunch Now at Eldridge!
10/9/2014, 10:19 a.m.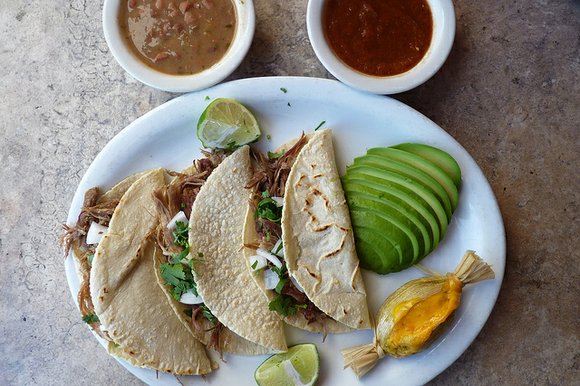 Houston, Texas. October 9, 2014. Sylvia Casares, owner and executive chef of Sylvia's Enchilada Kitchen, 6401 Woodway, and 12637 Westheimer, and Sylvia's, at 1140 Eldridge Parkway, in the heart of Houston's Energy Corridor, will begin brunch serve on Sunday, October 12, from 11 am until 3 pm, at her Eldridge location. "Our brunch menu includes all your Tex-Mex favorites, egg dishes, pancakes and more," stated Casares. Cost: $19.95 per person, which includes Agua de Sandia and soft drinks. Add $5 for Mimosa Special. For more information, please visit www.SylviasEnchiadaKitchen.com or call (832) 230-3842.
Sunday Brunch Menu
Made-To-Order Breakfast Station
Sylvia's Famous Pancakes • Eggs Prepared Your Way
Huevos Rancheros • Migas • Huevos con Chorizo • Chilaquiles
Potatoes Sylvia's Style, with onion and bacon
Omelette Station
Omelettes made with your choice of Bacon, Ham,
Cheese, Onions, Tomato, Bell Peppers, Jalapeño,
Spinach and Mushrooms
Salad Station
Mixed Lettuce • Steamed Veggies
Dressings: Ranch, Italian, Vinaigrette and Caesar
Street Taco Station
Beef Fajita • Chicken Fajita,
Carnitas • Breakfast Tacos
Enchilada Extravaganza Station
Featuring our five Sylvia's Enchiladas of the Week
Sides Station
Guacamole • Pico de Gallo • Cheddar Cheese • Sour Cream
Rice • Beans • Chile Con Queso • Bacon Strips
Dessert Station
Tres Leches • Chocolate Tres Leches
Flan • Fresh Fruit
Awards: 2014: Alison Cook's Top 100 Restaurants in Houston, #48, Houston Chronicle
Hours:
Eldridge: Sun-Wed: 11am- 9:30pm; Thurs, Fri. and Sat: 11am-10:30pm; Sun: Brunch: 11am-3pm. (832) 230-3842
Westheimer: Sun-Thurs: 11am – 9pm; Fri-Sat: 11am to 10pm. (281) 679-8300
Woodway: Sun-Wed: 11am- 9:30pm; Thurs, Fri. and Sat: 11am-10:30pm; Sun: Brunch: 11am-3pm. (713) 334-7295
Sylvia's Enchilada Kitchen is known for its eighteen regionally specific enchiladas, fajitas, and hand-made corn and flour tortillas. On most Saturdays, Casares teaches hands-on cooking classes to individuals and groups at her restaurant. For more information about Sylvia's, 1140 Eldridge Parkway, Sylvia's Enchilada Kitchen, 6401 Woodway and 12637 Westheimer, please call 713-334-7295, or visit our website at SylviasEnchiladaKitchen.com.