Conjoined Twin Texas Babies to Take First Step to Separation Surgery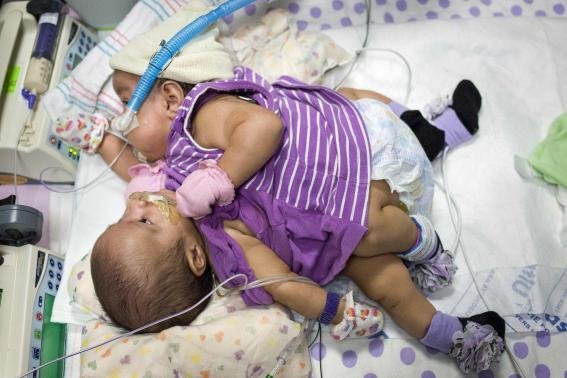 BY AMANDA ORR
Conjoined 6-month-old twin girls will begin to undergo tissue expansion this month to stretch skin that will be used to cover patches of their bodies when they are separated in a surgery planned for December.
The tissue expansion for Knatalye Hope Mata and Adeline Faith Mata is expected to take six to eight weeks. The girls are joined at the abdomen and share a liver, diaphragm, pelvis, intestines and the lining of the heart.
"When I think about December I get that sick feeling in my stomach. I want to know how much pain they are going to feel after. What is it going to be like for them?" said their mother, Elysse Mata.
"They are where they should be developmentally. They reach up for toys, they reach out for us when we get close and talk to them," she said.
The girls were born via cesarean section at nearly eight months' gestation and will be separated at Texas Children's Hospital in Houston by a team of surgeons in a long and arduous procedure.
More at Reuters.com