Stark Naked Theatre in Collaborations with Third Coast Creative Presents The World Premiere of Ho Ho Humbug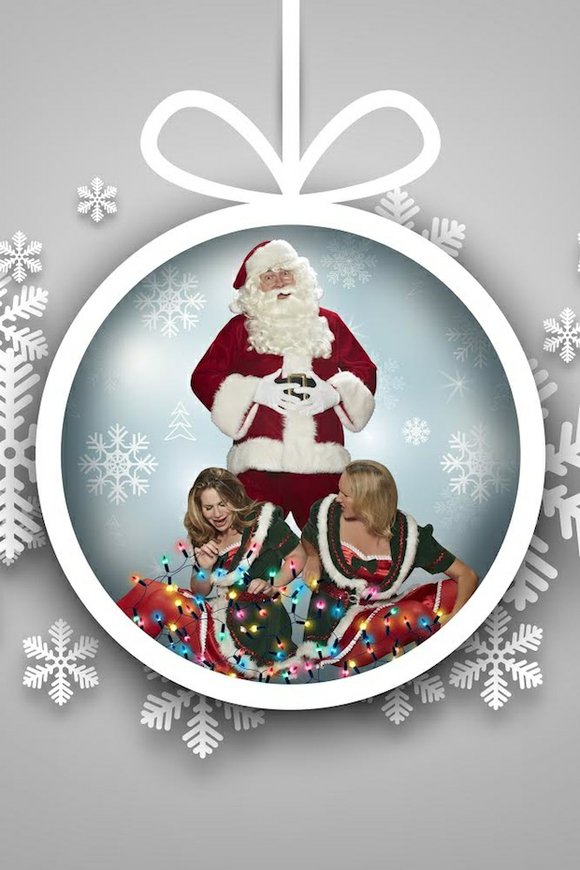 HOUSTON, Texas – October 10, 2014—Stark Naked Theatre Company presents its first-ever holiday production with the world premiere of Ho Ho Humbug – a hilarious Christmas-themed comedy produced in association with Third Coast Creative. Certain to become an annual holiday tradition for Houston theatre go-ers, Ho Ho Humbug runs December 4th through December 24th at Stark Naked's STUDIO 101, and is recommended for audiences aged 13 and older.
A festive tale written by and starring New York City-based playwright and actor Scott Burkell, Ho Ho Humbug is directed by Philip Lehl and features a strong ensemble cast that includes Houston favorite Kim Tobin-Lehl and original music by award-winning composer Paul Loesel. Ho Ho Humbug is the semi-autobiographical story of a disillusioned and acerbic middle-aged New Yorker who unexpectedly finds himself dressed in a red velvet costume (with beard!) and awash in a sea of candy canes, artificial snow, and crying babies. Is this sardonic Santa capable of suppressing his contempt for the season long enough to collect a paycheck? Or could Macy's Santaland actually make a believer out of its resident cynic?
Commenting on Stark Naked Theatre Company's collaboration on the play with Houston's Third Coast Creative, director Philip Lehl noted that, "Stark Naked is thrilled to have the opportunity to work with Third Coast Creative and bring Scott Burkell's words and life experiences to the stage. Ho Ho Humbug is an incredibly funny, entertaining, and ultimately heartwarming production that we believe will charm Houston audiences and remind us all of 'the reason for the season'."
Join Stark Naked Theatre Company for the world premiere of Houston's must-see holiday production—Scott Burkell's semi-autobiographical comedy, Ho Ho Humbug. Produced in association with Third Coast Creative and directed by Philip Lehl, Ho Ho Humbug stars Burkell and an ensemble cast featuring Susan Draper, Luis Galindo, Dayne Lathrop, Chelsea Stavis and Kim Tobin-Lehl, with original music by Paul Loesel. Ho Ho Humbug previews on December 4th, opens on December 5th and runs through December 24th, with performances held at Stark Naked's STUDIO 101, located at Spring Street Studios, 1824 Spring Street, Houston, Texas, 77007. Regular show times are as follows: Thursdays at 7:30 pm, Fridays and Saturdays at 8:00 pm, Sundays at 3:00 pm and a special "Pay What You Can" performance scheduled on Monday, December 22nd at 7:30 pm. Additional holiday performances will be held on Tuesday, December 23rd at 7:30 pm and the run will conclude with a 3:00 pm matinee and a 7:30 pm evening show on Wednesday, December 24th. Individual tickets (priced at $25 for adults, $19 for seniors and $12 for students) as well as $40 reserved Gold Seat tickets are available for all performances. Tickets can be purchased at www.starknakedtheatre.com or by phone at 832.866.6514. For more information on Ho Ho Humbug or Third Coast Creative, please visit their website at www.hohohumbug.com.
Cast and Creative Team of Ho Ho Humbug*
Scott Burkell (Playwright/Lyricist & Actor) and Paul Loesel (Composer/Original Music & Arrangements). Burkell and Loesel's songs have been premiered by Kristin Chenoweth (Carnegie Hall), Rebecca Luker (The Kennedy Center, Symphony Space), Marin Mazzie (Lincoln Center), Jason Danieley (Joe's Pub), Stephanie J. Block (Birdland), Susan Egan, and Liz Callaway (Chicago Humanities Festival.) Together they have received the Jonathan Larson Award, and as a composer, Paul is the recipient of the 2010 Burton Lane Award. Recordings of their work appear on Marin Mazzie and Jason Danieley's Opposite You, Stephanie J. Block's This Place I Know, and Rebecca Luker's Greenwich Time, and their debut album (Sorta) Love Songs (Sh-K-Boom Records). Their musical The Extraordinary Ordinary received a Jonathan Larson Performing Arts Foundation Grant, ASCAP and CAP21 workshops, and productions at the Philly Fringe Festival, Off-Broadway's Clurman Theatre, and Farmer's Alley Theatre (Kalamazoo, MI – Wilde Award nom.). Musical revues include Love Songs and Other Crap (MAC Award nom.) and Sorta Love Songs (Birdland). LMNOP, their new musical, received developmental productions at the University of Michigan and Goodspeed Musicals (Norma Terris Theatre). Next up, TUTS Underground in early Spring 2015. For production photos, video/audio clips, and sheet music, visit www.scottandpaul.com. As an actor, Scott has appeared in the Broadway and first national tour productions of Titanic. Originally from Michigan he has performed for multiple seasons at the Augusta Barn Theatre in Augusta and Farmers Alley Theatre in Kalamazoo. Productions at these theatres include Parade, Sweeney Todd, God of Carnage, The 39 Steps, Plaid Tidings, Greater Tuna, A Tuna Christmas, A Catered Affair, and Little Shop of Horrors to name a few. Scott also worked for several seasons at Florida Studio Theatre in Sarasota where he was in productions of 3 Postcards, Prelude to a Kiss, The Robber Bridegroom, Execution of Justice, The Wonder Years, Blue Plate Special and No Way to Treat a Lady.