Wife-carrying Competition Brings Finnish Whimsy to Maine
TED SIEFER | 10/13/2014, 7:22 a.m.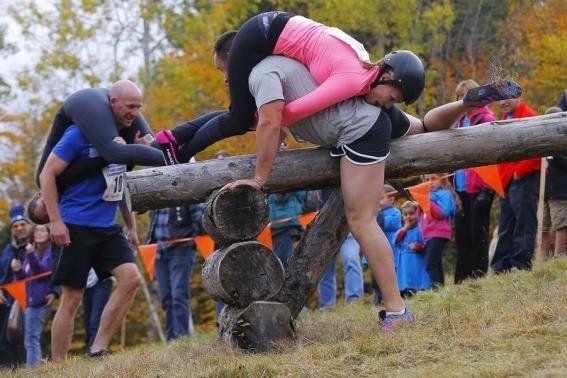 According to Reuters, Men with their wives slung over their shoulders bounded over log hurdles and charged through a muddy pit on a mountainside in Maine on Saturday, as hundreds of spectators cheered them on at the North American Wife Carrying Championship.
The annual event, now in its 15th year, held at the base of a grassy ski mountain at the Sunday River resort in Maine had all the trappings of a serious competition.
There were fit competitors in numbered bibs, a precision clock and a winners podium, but from the moment the announcer declared "saddle up!" as signal for the couples, it was clear this competition was as whimsical as they come.
Competitor John Lund sported big spikes protruding from shoulder pads, studded wristbands and a skeleton mask.
For more information, visit Reuters