Boss Shepherd's in Washington, D.C. Makes its Mark in the Restaurant Industry & Raises the Bar
Dawn Paul | 10/15/2014, 9:46 p.m. | Updated on 10/15/2014, 9:46 p.m.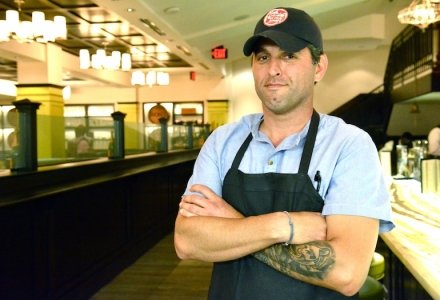 My work for Houston Style Magazine takes me to some amazing places, but I have to say that Washington, D.C. is one of my favorite spots to visit. I appreciate the culture, spirit and amazing history of Washington. Even with all that, a trip to Washington is not complete without noshing on the finest cuisine in the city. The Destination DC team is always my go to when I want to experience the best that Washington, D.C. has to offer. This time they suggested Boss Shepherd's for lunch, an exciting new eatery in the heart of Washington located in the Warner Theater building. Boss Shepherd's not only met my expectations, but exceeded them. Dining should be an unforgettable experience. I'll admit, I'm someone who has a love affair with my food and I'm totally in love with Boss Shepherd's!
Boss Shepherd's has not even been open for 6 months and they have already been receiving rave reviews for their divine farm-to-table fare created by Executive Chef Jeremy Waybright. Boss Shepherd's was recently featured in the Washington Post and made Tom Sietsema's top 10 list. The praise that they have been receiving is well deserved. My colleague and I were greeted with a genuine smile from the hostess, which set the tone for our Boss Shepherd's food love affair.

Boss Shepherd's has a starter that's not the usual bread and butter. Chef Waybright created a signature starter of pimento cheese and homemade crackers. Pimento cheese is not a favorite and I was a little hesitant, but Chef Waybright's creativity with pimento cheese was a pleasant surprise for the palate. Boss Shepherd's is also known for their delectable creations from behind the bar that pair well with any selection from their lunch and dinner menu. The Manhattan and Central Market Sparkler did not disappoint, but the Belvedere Mango Passion Cosmo and the Blueberry Lemonade were absolute favorites. In fact, I wanted to extend my trip just to have another Blueberry Lemonade. Cocktails and appetizers go hand in hand, so we took the suggestion for the pot pie appetizer. Their take on the pot pie was unique and delicious. Only Boss Shepherd's could turn pot pie into a deliciously light fritter. These little morsels of goodness were full of pot pie flavor without that heavy feeling.

Born in Texas, I know Southerners pride themselves on having that magic recipe to perfect fried chicken. Fried chicken can't be too dark or too light and the skin has to have that perfect golden brown color. The fried chicken (brined for 12 hours) at Boss Shepherd's gave me that piece of Southern Heaven while I was away from home. Chef Waybright is a Southern native and he knows you can't have fried chicken without biscuits and his buttermilk biscuits are absolute perfection. Just when you think that is enough, Chef Waybright has 3 sauces to accompany this Southern staple. The chicken was juicy, tender and perfectly seasoned. We also indulged in the trout from North Carolina with Meyer lemon caper brown butter sauce. You can choose to have the trout with or without the heads on, but we lived dangerously and opted for heads on. Trout was never my favorite fish, but Boss Shepherd's made me into a believer, putting it over a hearty serving of creamy Wades Mill white grits.