The Book of Luke James
Trevor G. Piper | 10/15/2014, 9:55 p.m. | Updated on 10/15/2014, 9:55 p.m.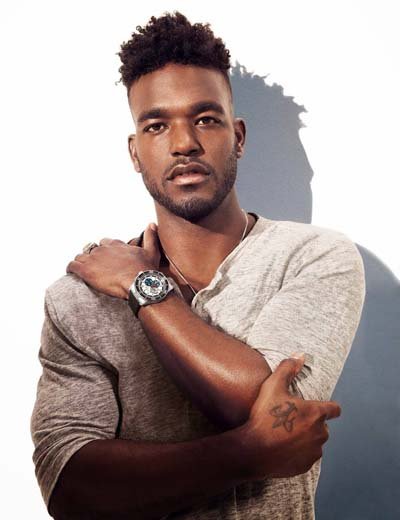 It's always awesome to witness a new phenomenon in-person if you can be open to it. Entering the House of Blues to a good-looking crowd of couples, hipsters and very attractive, fashionable people, DJ Baby Jae of the Krackernuttz crew is hyping up the crowd by spinning some classic hip-hop while maintaining an up-tempo. As it gets closer to show time he slows it down with some classic R&B tracks and the crowd sings right along to every word indicating that they are primed and ready for this style of show. The band descends from backstage to jump on their instruments to rock out. Then pow, the man of the hour, clad in all white takes the stage and the audience erupts with applause and cheers. It's Luke James time!!
He runs through his new material displaying his fantastic range from high notes to low notes. The closest example would be that of Prince. Luke's personality illuminates on stage as he plays comedian, down to earth singer guy and creator of that good vibe. The New Orleans born and bread vocalist has been singing since his youth and is at home on the microphone.

Houston Style Magazine had the opportunity to chat with the gracious crooner backstage after the show:
Houston Style Magazine: Welcome back to H-Town. How's the new album?
Luke James: Album is doing absolutely well, people are very receptive, the critics have been great and gracious (laughs), and people are buying it so it's awesome.
HSM: We see that you're modeling for the Gap and Staple. How's that going?
LJ: It's awesome. These people coming around and want me to wear their clothes so why not? It's all fun, it's all art; I'm all down if it's positive.
HSM: May we assume you have a vocal church background?
LJ: Sort of, I'm more of a sponge. I was raised in the church but it wasn't heavy in my house like that. I'm more of a sponge of people that move people and church music of course does do that. I've always been intrigued by different genres of music that made people feel a certain way and just made people lose themselves in the moment like gospel is one of those things, rock and roll, soul music and things like that.
HSM: How heavy is your vocal training regiment because your range is phenomenal?
LJ: Umm, keep singing (laughs). Less talking, a lot of practice…
HSM: A lot of tea?
LJ: Oh yea, a lot of warm things. Just constantly training myself, learning new things, listening to new things, listening new music. Just vocally trying myself.
HSM: You seem very artsy yet your album is self-titled, why not something deeper or more artistic?
LJ: You know this is my first official album; I like to look at this album as a prelude to the Luke James' story. It only made since to title this first chapter the cover Luke James, like the book of Luke.
HSM: How long ago did your mixtape drop?
LJ: Like 2 years ago now.
HSM: Wow, how does that feel now? You're on stage; you're on tour. You went on tour with Beyonce! How was that?
LJ: That was amazing man, out of this world. Just to be on tour and on stage. That's where I live the most. Create the music and get out there and perform it and see how it affects the people. I had a great time on tour with Bey and now headlining my own tour. It's absolutely amazing and a blessing. I'm just grateful to be able to do what I love to do.
Those that already knew of him love him and sang along and those of us that were new to his sound were changed and went on to download his new self-titled album.
For more information, visit officiallukejames.com.