Florida A&M University President visits Kinsey Collection and HMAAC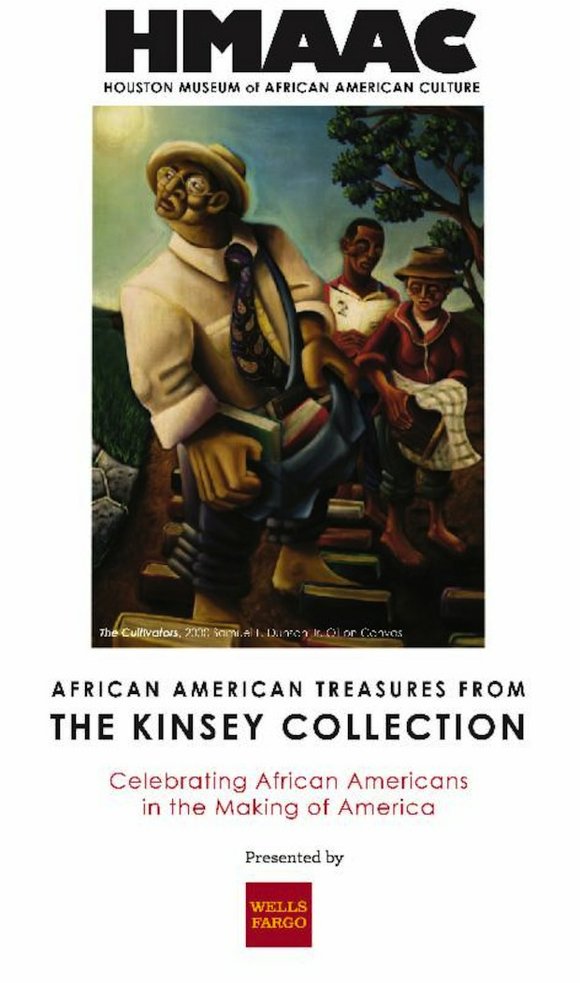 Houston, Texas, October 16, 2014– The Houston Museum of African American Culture (HMAAC) announces the upcoming visit of the new Florida A&M University president to HMAAC. Making history as the first permanent female president in the institution's 127-year legacy, Elmira Mangum, Ph.D., began her tenure as the 11th president of Florida Agricultural and Mechanical University (FAMU) on April 1, 2014.
A seasoned administrator, Dr. Mangum has served at the executive level of nationally recognized institutions of higher learning for more than 28 years, most recently at Cornell University before FAMU. She is focusing her administration at FAMU on "Building a Brand that Matters in the 21st Century and Beyond."
President Mangum will be visiting HMAAC to salute Florida A&M University graduates Bernard, Shirley and Khalil Kinsey, whose nationally renowned exhibition on African American history and culture, Wells Fargo Presents African American Treasures from the Kinsey Collection, is on view at the museum through October 26.
The Kinsey family is honored to have Ms. Mangum in Houston for the conclusion of the exhibit. "As FAMU alums, my family is overwhelmed by this visit," according to Bernard Kinsey.
The HMAAC CEO John Guess, Jr. voices similar sentiments, "Our board and staff have been so impressed and grateful to Wells Fargo and the Kinseys for bringing this exhibit to Houston. And now to have one of America's top educators to visit us is our cup truly running over!"
While in Houston, President Mangum will be honored by local FAMU alums at a reception Thursday, October 23 at HMAAC where she will be given a tour by the Kinseys, and she will also be attending the HMAAC Gala on Friday, October 24 at the Ensemble Theater, where she will be honored by a table of local college and University presidents and deans.

According to Guess, "What a wonderful weekend we have planned to end what we have called "Houston's Three Month African American history course," one that 10,000 visitors have participated in. The board and staff at HMAAC invite Houstonians to come out and be sure not to miss this tremendous conversation we have had around the Kinsey Collection."
ABOUT WELLS FARGO:
Wells Fargo & Company (NYSE: WFC) is a nationwide, diversified, community-based financial services company with $1.6 trillion in assets. Founded in 1852 and headquartered in San Francisco, Wells Fargo provides banking, insurance, investments, mortgage, and consumer and commercial finance through more than 9,000 locations, 12,500 ATMs, and the internet (wellsfargo.com), and has offices in 36 countries to support customers who conduct business in the global economy. With approximately 265,000 team members, Wells Fargo serves one in three households in the United States. Wells Fargo & Company was ranked No. 29 on Fortune's 2014 rankings of America's largest corporations. Wells Fargo's vision is to satisfy all our customers' financial needs and help them succeed financially. Wells Fargo perspectives and stories are also available at blogs.wellsfargo.com and at stories.wellsfargobank.com.
ABOUT THE KINSEY COLLECTION:
The Kinsey Collection strives to Educate, Motivate & Inspire Americans to learn more about the remarkable contributions of African Americans in building America. The Kinsey Collection has been featured on CBS SundayMorning and scores of television/radio shows and newspapers/magazines nationally. It has been cited in three national awards including the nation's highest honor, The President's Medal for Museum and Library Services, and was selected as one of the "Top Ten exhibits to see in the world". With their son Khalil, the Kinsey's have developed a 198-page coffee table book that has been adopted by the State of Florida to teach African American history, and a companion lecture series titled "What You Didn't Learn in High School History". The Kinsey Collection exhibition has been on display in eight museums including the Smithsonian National Museum of American History, with an iteration of the collection showing at EPCOT Center, Walt Disney World Resort through 2015.
ABOUT THE HOUSTON MUSEUM OF AFRICAN AMERICAN CULTURE:
The mission of HMAAC is to collect, conserve, explore, interpret, and exhibit the material and intellectual culture of Africans and African Americans in Houston, the state of Texas, the southwest and the African Diaspora for current and future generations. In fulfilling its mission, HMAAC seeks to invite and engage visitors of every race and background and to inspire children of all ages through discovery-driven learning. HMAAC is to be a museum for all people. While our focus is the African American experience, our story in Texas informs and includes not only people of color, but people of all colors. As a result, the stories and exhibitions that HMAAC will bring to Texas are about the indisputable fact that while our experience is a unique one, it has been impacted by and has impacted numerous races, genders and ethnicities.
For more information, visit hmaac.org/‎