Operation Thanksgiving: Stuff the Squad Car And Fire Truck Set for Nov. 22 at Public Safety Headquarters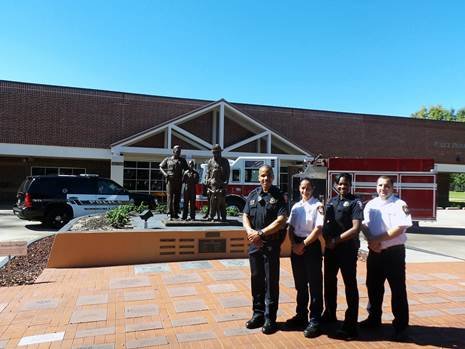 From 8 a.m. to 1 p.m. on Saturday, Nov. 22, residents will once again partner with Missouri City staff to host "Operation Thanksgiving – Stuff the Squad Car and Fire Truck" to assist families in need during the upcoming holiday season. The event will take place in front of the Public Safety Headquarters, 3849 Cartwright Rd.
Residents are encouraged to come out and fill 10 Missouri City police squad cars and one Fire & Rescue Services truck with canned and non-perishable food items. Donated goods will be delivered to the Second Mile Mission Center, Bethel Ministry and St. Vincent de Paul – Holy Family Catholic Church.
Beginning Nov. 1 and leading up to the Nov. 22 event, residents are welcome to leave donations in drop-off bins at the following City facilities:
· City Hall, 1522 Texas Pkwy.
· Permits & Inspections Office in the City Hall complex, 1522 Texas Pkwy.
· Municipal Court, 3845 Cartwright Rd.
· Recreation & Tennis Center, 2701 Cypress Point Dr.
· Missouri City Police Department, 3849 Cartwright Rd.
· Police Mini-Station, 1700-A Texas Pkwy.
· Fire Station 1, 3849 Cartwright Rd.
· Fire Station 2, 12043 McLain Blvd.
· Fire Station 3, 2496 Texas Pkwy.
· Fire Station 4, 5955 Sienna Pkwy.
Last year, thanks to the generosity of Missouri City residents, staff, area students and local community groups, the City nearly reached its goal of filling 10 squad cards before the event even occurred. On the day of the event, Missouri City staff and volunteers stuffed eight squad cars and one fire truck with donations that came from local residents, church groups, schools, other City departments and area businesses such as Niagara Water and Classic Chevrolet.
Missouri City invites the community to donate to a worthy cause and make this year's Operation Thanksgiving an even greater success.
For more information about Missouri City, please watch the City website: www.missouricitytx.gov, like us on Facebook—fb/MissouriCityTX, follow us on Twitter—@MissouriCityTX, and watch Missouri City Television (Ch. 16 on Comcast).