Award-Winning Author, Journalist and TV Personality Calls Women to Unlock Their Inner Woman Code to Live, Love and Lead More Powerful Lives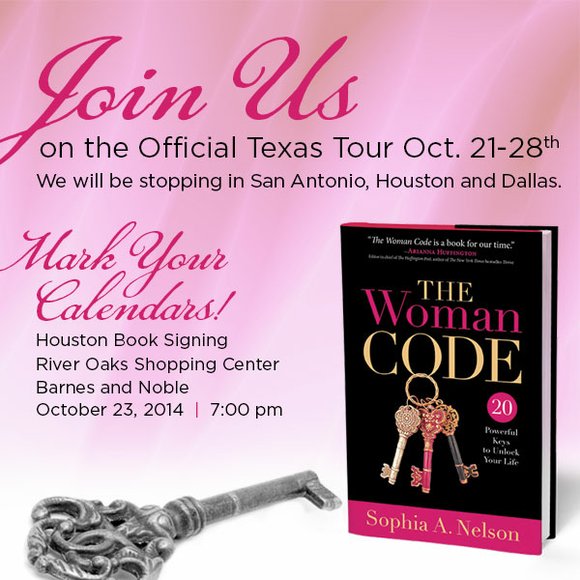 Former White House reporter and prominent political and cultural commentator, Sophia A. Nelson, says all women live by a Code, whether they realize it or not. The Code is a woman's guidebook to living and informs her romantic relationships, friendships, family ties, career choices and personal sense outside of us. When a woman isn't living by the Code, her life is out of balance."
In ThThe Woman Code, Nelson draws from her personal faith and her vast experience as a corporate lobbyist, attorney, Capitol Hill Committee counsel and journalist, and offffers 20 powerful "keys" to help women unlock their internal Code for living. "ThThis book calls upon women of our time to connect cross-generationally, across racial and ethnic barriers, across socioeconomic groups and even across politics, to unlock the 'Woman Code' inside each of us," Nelson says. "Together we can build better lives, a closer sisterhood, more meaningful professional achievements and a better world for us all."
ThThe Woman Code is broken into five sections that cover a woman's personal, emotional, spiritual, professional and relational experiences. ThThe Codes create a roadmap of timeless values coupled with modern-day approaches to help women face the challenges of our time, including:
Knowing your value and worth

Teaching people how to treat you

Making peace with your past

Leading from within

Lifting other women as you climb
Nelson opens the book by connecting with women through a powerful and deeply personal introduction that lays the foundation for why she penned the book. The Woman Code, as New York Times bestselling author Arianna Huffington says, is indeed "a book for our time."
The Woman Code will launch, worldwide, on October 14th with a six-city book tour with including speaking engagements and book signings in Washington, D.C., Atlanta, Philadelphia, Houston, Dallas and San Antonio. Nelson is also the keynote speaker at the Who's Who San Antonio Woman's Conference and is speaking at Bishop T.D. Jakes' Woman, Thou Art Loosed! conference and the Pennsylvania Conference for Women. Pre-sales of The Woman Code are available now at www.TheWomanCodeBook.com via Amazon and Barnes & Noble.
This highly-anticipated book will be available at all major retailers, upon release.
ABOUT SOPHIA A. NELSON
Nelson is an American award-winning author and journalist. Her work and advice have been endorsed by top writers, journalists and businesswomen including Mika Brzezinski, Chris Jansing, Serita Jakes and Soledad O' Brien. A former Congressional Committee counsel and corporate lobbyist, Nelson left legal practice in 2008 to pursue her childhood passion to become a journalist. In 2009, she became a freelance reporter and White House correspon- dent for JET magazine and various other outlets.
She is now a noted TV and radio personality, as well as a highly sought-after motivational speaker and corporate leadership trainer for Fortune 500 companies, nonprofits and major universities. She contributes regularly to national media outlets. Nelson has also appeared on the BBC, NBC's Today and World News with Diane Sawyer. She has contributed feature articles to USA Today, ESSENCE magazine, The Wall Street Journal, The New York Times and The Washington Post. Her newest work, The Woman Code, will be released in October 2014 and more information is available at www.thewomancodebook.com. Sophia makes her home in Loudoun County, Virginia.
REVELL, a division of Baker Publishing Group, was founded in 1870 and has spent more than a century focused on publishing books that offer both inspiration and practical help to readers. Over the decades Revell books have included numerous New York Times bestsellers as well as titles in a variety of genres including fiction, Christian living, marriage, family, youth and self-help. For more information, please visit www.revellbooks.com.
BAKER PUBLISHING GROUP, based in Ada, Mich., is one of the world's largest publishers of Christian books. For more information, please visit www. bakerpublishinggroup.com.