Modern Menus Meet Culinary Traditions
Family Features | 10/23/2014, 11:14 a.m. | Updated on 10/23/2014, 11:14 a.m.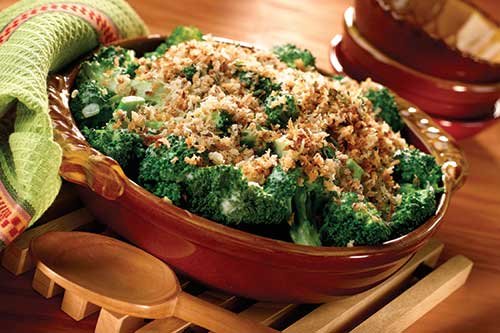 Sharing family recipes is a treasured holiday tradition for many, but every holiday table needs a mix of cherished family dishes and new culinary creations.
This year, honor those special memories and reminisce over platters of family favorites while introducing new and delicious items to your holiday spread. From juicy pork tenderloin to nutty and tart pound cake, these delightful dishes are sure to bring joy to your dinner table this season.
Whether your kitchen contribution is a family recipe or a new dish to introduce to your relatives, it all begins with a kitchen that is well-stocked with essentials such as salt, pepper and other pantry staples. With a wide variety of products, including olive oils, vinegars, cooking wines and cooking sprays, Pompeian has all of the basics you need for any holiday dish. Pompeian is also the first and only extra virgin olive oil to carry the new USDA Quality Monitored seal — ensuring you're using only the best quality ingredients to feed your family and friends.
To celebrate the season and honor these special family dishes, Pompeian is helping consumers immortalize their favorite family recipes. Visit Facebook.com/Pompeian to design a custom bottle of extra virgin olive oil special enough to gift to a loved one or to keep for your own holiday table.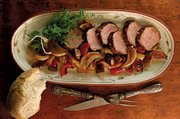 Pork Tenderloin with Balsamic Roasted Vegetables
Servings: 4
1/2 cup Pompeian Extra Virgin Olive Oil
1/2 cup Pompeian Balsamic Vinegar
2 cloves garlic, finely chopped
2 teaspoons mixed dried herbs, such as thyme, rosemary, oregano or marjoram
Salt and freshly ground black pepper
2 pork tenderloins (10–12 ounces each)
2 red, yellow or green bell peppers, cored and cut into 1 1/2-inch pieces
2 medium yellow onions, cut into 3/4-inch wedges
1 small eggplant, cut into 1-inch pieces
Pompeian Extra Virgin Olive Oil, for drizzling
To prepare marinade, combine olive oil, balsamic vinegar, garlic and herbs in bowl. Whisk until blended; add salt and pepper to taste.
Place 2 pork tenderloins in large sealable plastic bag. Pour in half marinade and refrigerate for 1 hour or overnight, turning bag occasionally.
Preheat oven to 400°F.
Pour remaining marinade over peppers, onions and eggplant and toss. Arrange vegetables in large oiled roasting pan. Roast in preheated oven 15 minutes.
In meantime, heat large non-stick skillet over medium-high heat. Remove pork from marinade. Add to skillet and brown on all sides.
Transfer pork to pan of roasted vegetables. Return to oven for 20–25 minutes or until pork registers 155°F on meat thermometer. Slice pork and serve with roasted vegetables. Drizzle olive oil over finished dish.
Broccoli Gratin with Crunchy Herb Topping
Servings: 4
1 bunch broccoli, cut into florets
Sea or kosher salt, to taste
1/4 cup Pompeian Extra Light Tasting Olive Oil
1 small onion, chopped
2 tablespoons all-purpose flour
1 1/2 cups low-fat milk
1/3 cup grated Parmesan cheese
1 tablespoon flat-leaf parsley, chopped
Freshly ground black pepper, to taste
3 tablespoons Pompeian Extra Virgin Olive Oil
1 clove garlic, finely chopped
1 tablespoon fresh thyme leaves, finely chopped
6 tablespoons breadcrumbs
Bring large pot of water to rapid boil. Add broccoli and salt to taste. Blanch for 3 minutes. Drain and refresh under cold water and drain again. Pat dry with paper towels and transfer to bowl.
Preheat oven to 400°F. Oil small gratin pan.
For sauce, heat extra light tasting olive oil in medium saucepan over medium heat. Add onion and cook until tender. Add flour and stir until foamy. Pour in milk and cook, stirring continuously until mixture comes to boil and thickens. Stir in Parmesan cheese and parsley and cook until cheese is melted. Season with salt and pepper, to taste. Coat broccoli evenly with sauce. Transfer broccoli to gratin pan.