Tunisia Fast Facts
Willie Grace | 10/28/2014, 1:35 p.m. | Updated on 10/28/2014, 1:35 p.m.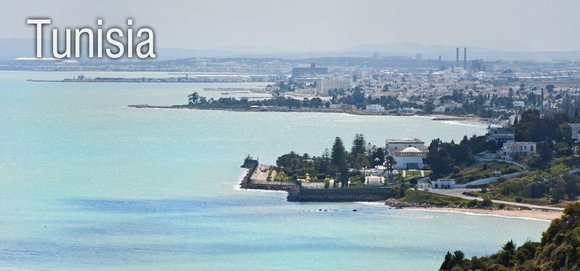 May 21, 2011 - Juan Mendez, the United Nations special rapporteur on torture, says that at least 300 people were killed and 700 injured during the Tunisian uprising in December and January.
June 14, 2011 - Interim Prime Minister Al-Baji Qa'ed Al-Sebsi announces that former President Zine el Abedine Ben Ali will be tried in absentia on charges relating to corruption and a stash of guns and drugs found in the presidential palace.
June 20, 2011 - After a one-day trial, former president Zine el Abedine Ben Ali and his wife are convicted of corruption in absentia. They are each sentenced to 35 years in prison and fined 91 million dinars ($65 million).
July 4, 2011 - After another one-day trial, Zine el Abedine Ben Ali is convicted of having marijuana and other illegal drugs, archaeological artifacts and weapons in the presidential palace. He is sentenced to 15.5 years in prison. Both Ben Ali's trial and sentencing are conducted in absentia.
October 23, 2011 - Tunisia holds the first national elections since its independence in 1956, to seat the new 217-member National Constituent Assembly. The moderate Islamist Ennahda Party, led by Rachid Ghannouchi, wins a majority of seats.
December 13, 2011 - Moncef Marzouki is sworn in as president of Tunisia.
May 23, 2012 - Prosecutors say they will seek a death sentence for former President Zine el Abedine Ben Ali, now charged in absentia with ordering the killings of anti-government demonstrators.
June 13, 2012 - Ben Ali is sentenced to life in prison for his role in the deaths of protesters between December 2010 and January 2011. Saudi Arabia does not extradite him.
February 6, 2013 - Opposition leader Chokri Belaid is shot and killed in front of his house as he is leaving for work. In response to widespread protests following Belaid's death, Prime Minister Hamadi Jebali announces he will dissolve parliament and form a caretaker government until new elections can be held.
February 19, 2013 - Prime Minister Hamadi Jebali resigns.
February 22, 2013 - Interior Minister Ali Larayedh is chosen by the ruling party, Ennahda, to be the new prime minister.
July 25, 2013 - Opposition leader Mohammed Al-Brahmi is fatally shot outside his home, setting off mass protests as a second Tunisian opposition leader is assassinated in almost six months.
August 6, 2013 - Tens of thousands of people protest in Tunis in hopes of dissolving the Constituent Assembly.
September 28, 2013 - Tunisia's governing party, Ennahda, agrees to resign and hand power over to an independent caretaker government until after elections.
October 23, 2013 - Talks intended to select the caretaker government are postponed due to violence and protests.
December 14, 2013 - Mehdi Jomaa, Tunisia's minister of industry, is selected to serve as caretaker prime minister until the elections, expected in 2014.
January 9, 2014 - Prime Minister Larayedh resigns to allow for the caretaker government to be run by Mehdi Jomaa.
January 26, 2014 - The National Constituent Assembly ratifies a new constitution.
January 28, 2014 - Islamist party Ennahda formally hands over power to the caretaker government, led by Prime Minister Mehdi Jomaa.
October 26, 2014 - Tunisians vote in parliamentary elections, the first since the 2011 revolution. More than 100 political parties have put up candidates for one of 217 seats in the People's Assembly.
For more information go to http://www.cnn.com