50,000 Students to Experience 16th Century Life at Texas Renaissance Festival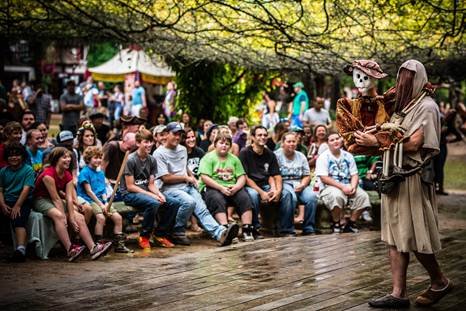 TODD MISSION, Texas (October 27, 2014) —The Texas Renaissance Festival will welcome approximately 50,000 students, grades K-12, from more than 75 school districts in Houston, Tomball, Magnolia, and even other states on Tuesday, Nov. 4 and Wednesday, Nov. 5 for the festival's 10th Annual School Days.
Celebrating its 40th year as the nation's largest and most acclaimed renaissance theme park, this year also marks the 10th anniversary of Texas Renaissance Festival's two-day event designed to allow students to step back in time to experience the sights and sounds of New Market Village, an authentic recreation of a 16th century European village. Students will interact with hundreds of costumed characters representing the courts, culture, art, science and literature of the Renaissance Period.
"We invite all public, private and home school educators and students to join us this year for an unforgettable educational experience that also happens to be a lot of fun," says General Manager Terre Albert. "Students, teachers and chaperones are invited to get in the spirit of the Renaissance and come in costume."
The event is designed to be age appropriate for students and all events, shows and activities will be both educational and entertaining. Jousting knights, musicians, jesters and magicians perform on stages and arenas throughout the village. Students will have the opportunity to learn courtly dances, the ancient art of falconry, and the history of arms and armor. Artisans in period dress illustrate the technological advances of the Renaissance age through live demonstrations in pottery, glass blowing blacksmithing, armor making and other arts and trades of this amazing period. No alcohol or weapons will be sold at School days.
All tickets are $8.00 per person, including same day ticket purchases at the gate. Children four and under are admitted free. For more information, visit www.texrenfest.com/school-days.
Tickets for the Texas Renaissance Festival can be purchased online only at http://texrentfest.com/buy-tickets. For all festival and camping information, visit www.texrenfest.com.
About Texas Renaissance Festival The Texas Renaissance Festival is the nation's largest and most acclaimed Renaissance-themed event. Established in 1974, the event attracts hundreds of thousands of visitors each year to its 55-acre footprint in Todd Mission, Texas. The interactive event features live entertainment, food, fun and professional actors who stay true to character for eight themed weekends from Saturday, October 11 through November 30, 2014. For more information, please visit www.texrenfest.com.