Café Mocha Radio Show Culminates October Month-Long 'GET SMART' Initiative With Support from President Obama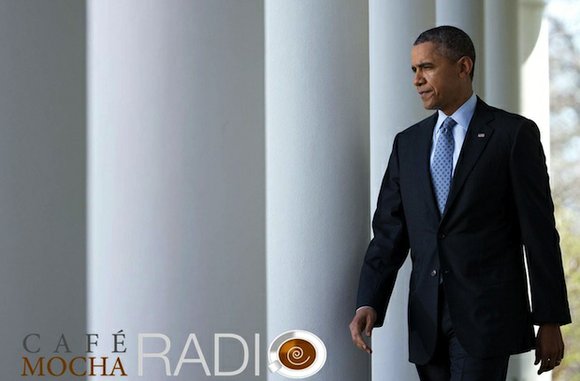 WASHINGTON, D.C. (October 28, 2014)— President Barack Obama will join Café Mocha Radio Show hosts Loni Love, Mc Lyte and Angelique Perrin this weekend (Nov. 1st) to discuss the importance of making 'smarter' decisions by voting to better our communities.

Listen to the interview
Audio clip
President Obama on Cafe Mocha Radio
Inspired by Breast Cancer and Domestic Violence Awareness Month, the show created the 'GET SMART' initiative, a 'total wellness' month-long movement designed to empower women to make #smarter decisions in every aspect of their lives. Each week the show features experts on relationships, health, finance, community service and entrepreneurship, as well as guest celebrity advisors who also participate in "post #smarter" twitter parties that have generated more than 45.7 million impressions to date.
Listen to more of the interview
https://soundcloud.com/angeliqueperrin/president-obama-visits-cafe-mocha
The nationally syndicated radio show best known as 'radio from a woman's perspective' also has been tapped by Hyundai to participate in the launch of its Smarter Living 2015 Sonata campaign that celebrates the lives and accomplishments of everyday women who are living life on their own terms and achieving success by making smart choices.
"We applaud Hyundai for seeing the value of women as astute decision-makers and for being committed to take on issues of importance to all women," says Sheila Eldridge, CEO of Miles Ahead Broadcasting and creator/executive producer of Café Mocha Radio.

The two campaigns have been integrated across all Café Mocha platforms, which include the radio show's Mocha Mavens blogger network. Visit www.CafeMochaRadio.com and www.HyundaiSmarter.com #SmarterLiving for more information.
About the Café Mocha Radio Show: Café Mocha is the brainchild of award-winning media veteran Sheila Eldridge. Created by and for Women of Color and syndicated nationally in more than 25 markets and on Sirius/XM Channel 141, Café Mocha is heard in major radio markets such as New York, Chicago, Atlanta and Washington, D.C. The show airs weekends and is co-hosted by comedienne/television host Loni Love (E!'s "Chelsea Lately"/Fox's "The Real"), two-time Grammy-nominated hip-hop artist MC Lyte, and broadcast veteran Angelique Perrin. This high-energy, two-hour show features the latest in urban music, lively chats from an unabashedly women's perspective, no-holds-barred advice and exclusive interviews with top performers, celebrities, politicians and civic leaders. Café Mocha, represented by Westwood One Networks, is the only national show that speaks directly to African-American women, ages 25 to 54, who represent a combined buying power of more than $1.2 trillion.
Café Mocha Socially Savvy