Missouri City Offers Free Home Fire Safety Surveys, Reminds Residents Daylight Saving Time Ends on Sunday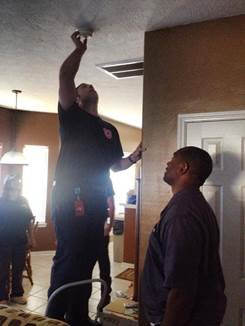 In order to maintain and foster a close relationship with "Show Me City" residents, the Missouri City Fire & Rescue Services Department is offering free home fire safety surveys to help residents identify potential fire hazards and provide the needed education to eliminate or reduce them.
As daylight saving time ends on Sunday, Nov. 2, and residents move their clocks back an hour, Fire & Rescue Services encourages residents to use the time change as an opportunity to check all smoke detectors in their home, install new batteries and review their home fire safety plans.
"Homes are the locations where people are at greatest risk from fires, and the paramount reason we need a partnership with our residents," Missouri City Fire Marshal Curtis Campbell said. "Residents who have planned and practiced a home fire escape plan are more prepared and will therefore be more likely to survive a fire."
In addition, working smoke detectors play a vital role in detecting and notifying residents to enact their home fire escape plan. Fire & Rescue Services encourages residents to maintain and check the condition of all smoke detectors in their home and suggests that residents use daylight saving time as a reminder to perform smoke detector checkups, change all smoke detector batteries and review or create fire safety escape plans for their homes.
"It has been shown that working smoke alarms cut the risk of dying in a home fire by half," Campbell said. "We ask our residents to take personal steps to increase their safety from fire, especially in their homes, and test their smoke detectors monthly."
Residents who would like to have a free home fire safety survey or who have additional questions about Fire & Rescue Services programs can call 281.403.4300.
For more information about Missouri City, please watch the City website: www.missouricitytx.gov, like us on Facebook—fb/MissouriCityTX, follow us on Twitter—@MissouriCityTX, and watch Missouri City Television (Ch. 16 on Comcast).