Serena Williams Rips Olympic Official For Calling Her A Man
Willie Grace | 10/31/2014, 6 a.m. | Updated on 10/31/2014, 6 a.m.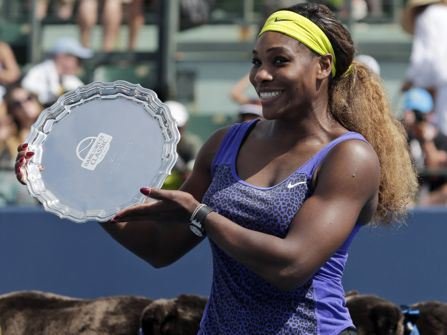 Serena Williams lit into International Olympic Committee member Shamil Tarpishchev after he referred to her and sister Venus as the "Williams brothers."
Williams said of the comments at a news conference Sunday in Singapore: "I thought they were very insensitive and extremely sexist as well as racist at the same time. I thought they were in a way bullying."
Tarpishchev, who is also president of the Russian Tennis Federation, made the remark on Russian state TV Friday. During an interview, the host said to Tarpishchev, "I was at the Olympics, where Maria Sharapova was in the final, playing with one, with one of the…" Tarpishchev finished the sentence by saying, "Williams brothers."
There was an immediate backlash. Tarpishchev was fined $25,000 and suspended for a year by the WTA, according to The Guardian.
WTA chief executive Stacy Allaster also criticized Tarpishchev saying his comments were "insulting, demeaning and have absolutely no place on our sport." Sharapova condemned Tarpishchev's comments as well. "I think they were very disrespectful and uncalled for, and I'm glad that many people have stood up, including the WTA," Sharapova said.
Tarpishchev made an official apology Saturday. But for Williams it wasn't enough. "I've done the best that I can do, and that's all I can say. So I just wasn't very happy with his comments," she said.
Serena is in Singapore to play in the season-ending WTA Finals tournament, which begin today (Oct. 20).
Serena, 34, has won 18 grand slam singles titles. Her older sister Venus has won seven grand slam singles titles.
For more information go to http://www.blackamericaweb.com