Indianapolis Colts' Owner Jim Irsay Suspended 6 Games and Fined $500k
Mark Alesia | 9/2/2014, 1:45 p.m.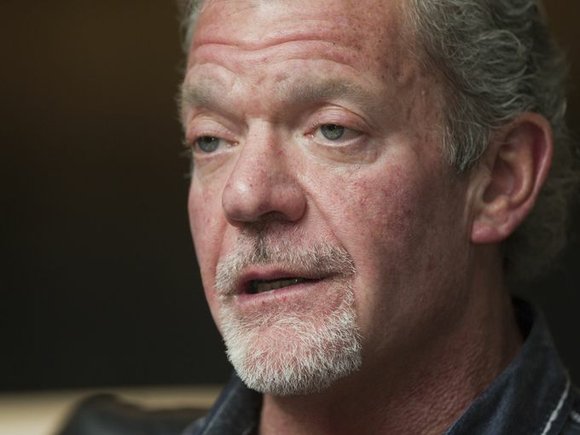 Indianapolis Colts owner Jim Irsay will spend one year on probation after pleading guilty to driving under the influence.
He has also been suspended six games by the NFL and fined $500,000, the maximum permitted under league rules, for violating the league's personal conduct policy.
During a change of plea hearing held this morning at the Hamilton County (Ind.) courthouse, Irsay entered a guilty plea for one misdemeanor charge of impaired driving stemming from his arrest by Carmel, Ind., police on March 16. A similar charge was dropped.
A toxicology report in court showed Irsay had the painkillers oxycodone and hydrocodone" in his system during his arrest. Police records said officers "continuously had to support Irsay in order to prevent him from falling over."
During his probation, Irsay will be drug tested. Judge J. Richard Campbell ordered that if Irsay is arrested again for operating while intoxicated within the next five year, the charge will be a felony offense.
NFL Commissioner Roger Goodell has yet to rule on any discipline for Irsay based on the NFL's Personal Conduct Policy. The case is being watched closely by players who want to see whether the commissioner treats an owner the same as players in disciplinary matters.
More on USAToday.com