Houston Arts Alliance in Collaboration with More than 40 Artists, Arts Organizations and Civic Organizations Presents Transported + Renewed
Exploring Houston's Historic East End in Motion September 1 – November 30, 2014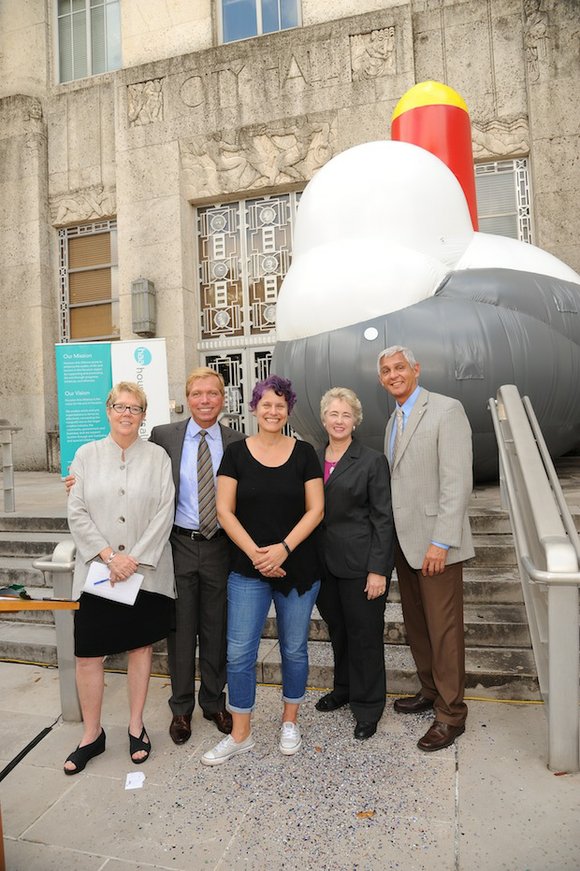 HOUSTON, TX — Houstonians' love affair with movement, transformation and reinvention is at the heart of Transported + Renewed, a bold mix of community-based and contemporary art projects organized by Houston Arts Alliance (HAA) in collaboration with local artists and community partners. From September 1 – November 30, 2014, Houston's East End, the city's historic transport hub and neighborhood hugging Buffalo Bayou and the Ship Channel, will be infused with a series of concerts, performances, visual arts installations and more.
Transported + Renewed events invite the public to explore the East End and experience a wide variety of engaging art-centered activities. Perfectly timed with the Port of Houston centennial and the development of the Houston METRO East End Light Rail Line, Transported + Renewed's creative placemaking highlights a new Houston era, celebrating the East End's rich history and promising future. From art cars, SLABs, ships, Dragon Boats and bicycles, to food trucks and trains, Transported + Renewed's three-month programming will set Houston's historic East End in motion.
"Transported + Renewed promises to be a significant feat of creative placemaking," says HAA President + CEO Jonathon Glus. "We are excited to take the lead on this major collaborative effort to bring together visual and performing artists, arts organizations, civic partners and area businesses to enliven Houston's East End. T+R will engage and encourage not only East End residents, but all of Houston, to experience one of the oldest and most historic neighborhoods in Greater Houston."
Spearheading the project, HAA Director of Folklife + Traditional Arts Pat Jasper states, "Transported + Renewed's programing is designed to create a sense of place in the East End: the events are free, site-specific and actively encourage community participation. Over the course of three months, our festival activities will explore Houstonians' artful obsession with all forms of transport including Dragon Boats, trains, bicycles, art cars, parades and more. T+R will also explore these themes abstractly through dance workshops and performances, live music and grand-scale art installations, including a series of spectacular projections on the Buffalo Bayou gravel silos. Transported + Renewed welcomes diverse audiences and visitors to a part of Houston at the center of our history and a beacon for its future."
The participating artists and arts organizations are Osvaldo Ayala with Transistmico Project, Austin High School SONIC BOOM Marching Band, Diane Gonzales Bertrand, BOX 13 ArtSpace, Cirque La Vie, Dance Houston, Danza Azteca Taxcayolotl, Amber Eagle, Sharon Engelstein, FrenetiCore Dance, David Lee Garza y Los Musicales, Pablo Gimenez-Zapiola and Carlos Pozo, Hear Our Houston, Tish Hinojosa, Houston Grand Opera/HGOco, Allison Hunter, The Magnolia Park Oral History Project, Kaffe Matthews and Nameless Sound, Milby High School Marching Thunder Band, Zach Moser and Shrimp Boat Projects, Allison Orr and Forklift Danceworks, Celso Piña y su ronda Bogotá, Patrick Renner, Jesse Sifuentes, Solero Flamenco and University of Houston Spirit of Houston Cougar Marching Band.
Transported + Renewed civic partners are State Representative Carol Alvarado, BikeHouston, Cathexis, City of Houston, Eastwood Civic Association, Council Member Robert Gallegos, Council Member Ed Gonzalez, Greater East End Management District, Houston Canoe Club, Houston Community College Southeast, Houston East End Chamber of Commerce, Houston Public Library, Mayor's Office of Special Events, The Metropolitan Transit Authority of Harris County, Ripley House, Texas Dragon Boat Association, Texas Mariners Cruising Association and University of Houston Cynthia Woods Mitchell Center for the Arts.